Jubilee property to have 'pivotol role' for Pace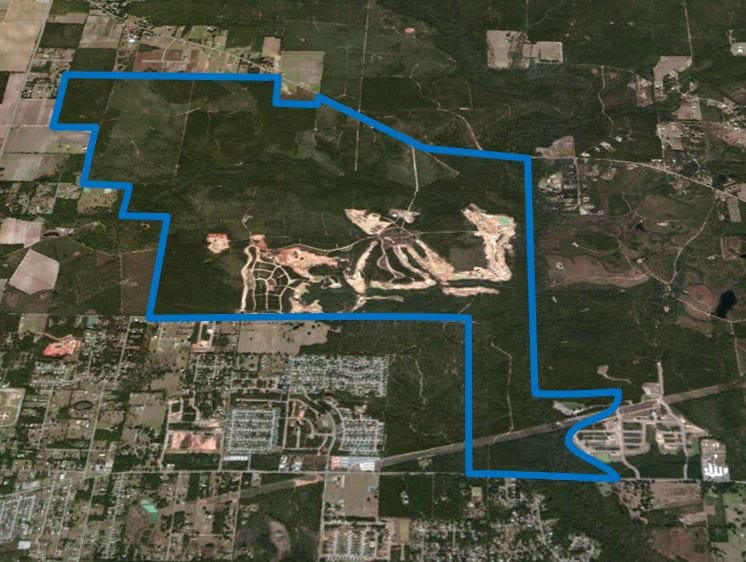 Tuesday, Sperry Van Ness | Southland Commercial Real Estate announced the sale and closing of the 2,718 acre parcel of land in Pace formerly known as "Jubilee" for $3.9 million. Chris Palmer, advisor with SVN confirmed the buyer is an investment group out of Atlanta led by Ron Reeser, one of the original developers of Jubilee. Palmer said, "With numerous subdivisions currently being developed in the immediate vicinity, this property stands to have a pivotal role in the future growth of the Pace community."
The property is in Santa Rosa County Commission Chairman Don Salter's district. He said, "Conversations I've had have been very preliminary. I'm not sure what they're planning on doing…Like any other project (I say) welcome to the neighborhood." Salter said he prefers to see larger tracts developed "so you can better plan them, so you can be sure you have the proper roads and school sites, rather than 25 acres here and 50 there."
Back in 2007, with much celebration, including a high-profile event at the Imogene Theater, Santa Rosa County looked forward to the Eagle Group, under its chairman, Ron Reeser, completing the residential community. The initial development consisted of a total of 588 homes, community parks, 25 miles of interconnected natural and paved walking paths and biking trails.  The first release of homes included 7 golf estates, 4 estates, 29 manors, 27 village homes, and 16 cottages amounting to 83 speculative homes.
While in development, Pace Water System, Chumuckla Water, and the City of Milton all vied for who would provide water and sewer to Jubilee. With the momentum for the planned golf community, the sluggish real estate market Escambia and Santa Rosa County suffered left the Eagle Group undaunted.
However, the Eagle Group ran into financial troubles. In 2008, investors under the name 2718 Santa Rosa took over the project and renamed the community Contrada Hills. The Santa Rosa County Commission designated it a Community Development District allowing the developers to issue tax-free bonds to pay for infrastructure improvements.
Salter said, "They  had an excellent plan…Like many projects, the recession/depression hit around 2007, 2008 right at the beginning of when the economy basically failed. Larger projects were hit hardest." Investors with 2718 Santa Rosa suffered the same fate leaving Jubilee, or Contrada Hills, in the rough for the following seven years.
Palmer said he believes Reeser and investors have a more realistic plan for Jubilee. He said he knows the plan long term is to develop it, "but not to the same extent as the original plans…The idea is more realistic to meet the demand."
According to Portare Services, LLC, a services and marketing company in the oil and gas industry, in the last 10 years, Reeser's 14 companies, operating under the Eagle Group umbrella, have entitled and/or developed residential and commercial properties in 19 counties in Georgia, 4 counties in Northwest Florida and one county in Hawaii with total project value exceeding $3 billion.
Considering the future of the current endeavor, Salter said, "I think with proper financing and the proper type of homes, I think it'll move forward. They have quite a bit of environmental work to do on the site and they're aware of that and prepared to deal with that. It's always a two-edged sword. Development grows the tax base, but at the same time, demands on infrastructure need to be address as well."
This article originally appeared on Santa Rosa Press Gazette: Jubilee property to have 'pivotol role' for Pace