Jay peanut farmer receives statewide recognition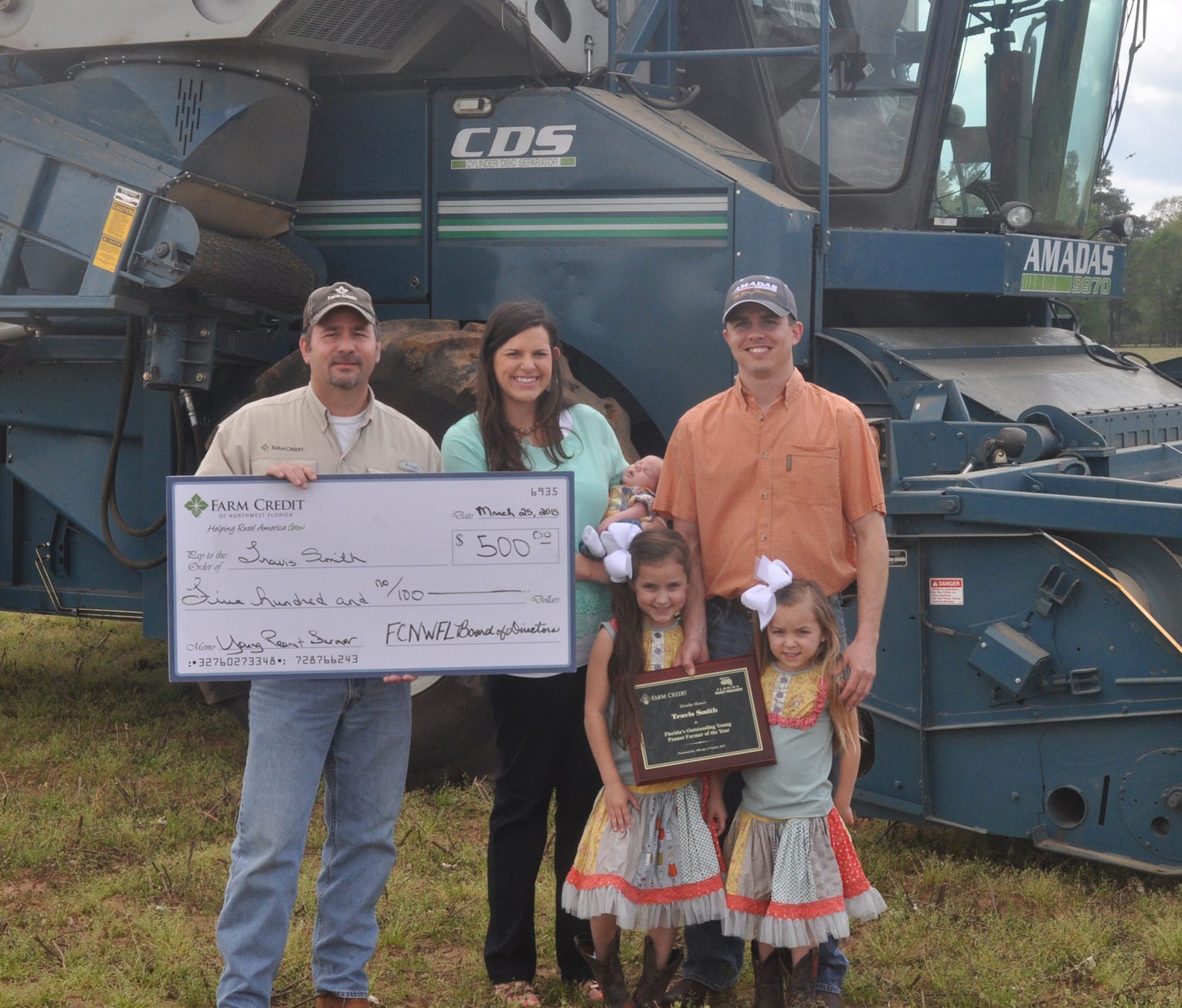 While continuing the family tradition of farming in the rural town of Jay, Travis Smith was recently recognized as 'Florida's Outstanding Young Peanut Farmer of the Year.'
Smith, a fifth generation farmer, said he felt "blessed" to receive the recognition in the same month his wife Brittany gave birth to their first son, Tate. The young family also consists of their two daughters Lexie, 5, and Leah, 6.
"I set goals and one of the goals is awards like this and being recognized it means a lot," Smith said.
Smith was nominated for the award by Mike Digmon with Farm Credit of Northwest Florida.
 "Travis just had the whole package as far as I was concerned," Digmon said. "One of the most important factors to any lender is character. That is one of the good factors, plus I wanted somebody who I felt ran a good operation and was a good producer."
Last year, Smith averaged more than 4,500 lbs per acre in peanuts. This year, Travis said he will have more than 230 acres of row crops including peanuts and cotton, in addition to managing a small herd of cattle.
The award is sponsored by Farm Credit through Florida Peanut Producers Association, Digmon said. Smith's recommendation was brought before an association selection committee and was selected amongst the entire state.
Smith, who has learned the farming trade from his family, said the farming profession is not the easiest career choice for anyone with no prior experience in farming.
"I am very fortunate," he said. "I don't have to make the mistakes that (my father) and my grandfather made; I can just go to them and they got me."
Although he can rely on his family's knowledge of farming, the profession is  continually changing, Smith said.
"As far as the work and the manual labor, (farming) has gotten a little easier," he said. "The technology is something you have to keep up on. Every year there is something different we have to change on our equipment… it's just something you have to do so you won't fall behind."
In addition to receiving the award, Smith received a check worth $500.  As for what the funds will be used for, Smith said he will let his wife decide.
This article originally appeared on Santa Rosa Press Gazette: Jay peanut farmer receives statewide recognition