Jay officials reflect on 2014, look onward to 2015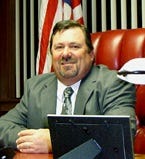 Officials in the Town of Jay, including Mayor Kurvin Qualls, Town Clerk Linda Carden and several of council members, are looking forward to 2015 in hopes of revitalizing the rural community through projects already set in motion. Council member Maxine Ivy was unavailable for comment at press time.
This past year, Jay received a grant from the Northwest Florida Water Management District worth more than $600,000. The funds will be used to upgrade waterlines within Jay. In email responses, both Qualls and Councilmember Shon Owens listed the grant as a major accomplishment from 2014.
Owens said many of the water lines in the town are "extremely" old and in need of being replaced.
Council member Maxine Ivy was also pleased to see the town receive the water grant which would upgrade the waterlines. Ivy is also happy to see the upcoming construction to Commerce Street.
"I have been looking forward to adding more lights to Commerce (street) for some time," she said.
For 2015, Ivy anticipates the renovating Old Livestock Market.
"It has just deteriorated over the years," she said. "We feel like we can do a lot with it."
Ivy also plans to implement  improvements towards Bray-Hendricks Park, including the town's tennis courts.
Mayor Qualls is looking to implement changes on Commerce Street, which would include repaving and lighting along the roadway. Owens said the project should be completed by March of this year.
 Fellow council member Jane Hayes said she is "most excited" about seeing the project start in 2015.
"We will mill and repave Commerce Street, change the roadway design a little for better egress onto Hwy 89 at Scott's Plaza, revamp sidewalks, curbing and cross walks," she said.  "Add period lighting and landscaping and really bring back the feel of the 1930's and 40's."
Owens listed several projects in the works for 2015.
"We are trying to remodel the livestock market," he said. Owens wants the outdoor facility to be regularly used for community recreational events, like flea markets or art shows.
Among the revitalization projects is finding the funding to revitalize Bray-Hendricks Park.  
Owens also wants to further improve the council's relationship with business owners in the rural community.
"We want to help them grow," he said.
Fellow council member Charles 'Chubby' Haveard agrees.
"In 2015, we are hoping for more revitalization of the buildings and bring awareness of the local businesses and the importance of them in Jay," Haveard said.
Town Clerk Linda Carden said further revitalization projects could be completed with a beautification grant, worth $65,000, recently acquired from the Florida Department of Transportation.
Looking back on 2014, Hayes mentioned the city hall's nativity scene, which made headlines in December after being removed due to a complaint letter from the Wisconsin-based 'Freedom from Religion Foundation.' The nativity scene has since been moved to another visible location in the town.
"My proudest moment is how the town and the townspeople reacted to the threats of that 'foundation'," Hayes said. "Everyone one seemed to think we were cowards, and they didn't stop to think that organizations like this feed on small towns with limited resources and they know they can get a lot of free publicity. They may have gotten that publicity and everyone riled up. I think we just out-witted them and saved tens of thousands of dollars in legal fees that are better spent on making Jay a better town."
Not only did the incident allow the nativity scene to receive more traffic at the new location—on the corner of Hwy.4 and Commerce Street—but Hayes believes it brought out the Christmas Spirit of the community.
"Nativity scenes and banners expressing the Christmas spirit seemed to spring up over night at businesses and churches alike," she said. "The townspeople really rallied…they even organized a rally downtown for the 22nd of December for a reading of the Christmas Story." 
Hayes added it was great showing of how the community exercised their Constitutional rights. 
This article originally appeared on Santa Rosa Press Gazette: Jay officials reflect on 2014, look onward to 2015