Jay church consumed by fire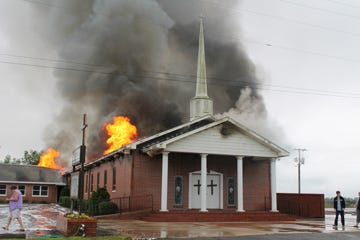 A raging fire at Mt. Carmel United Methodist Church, Jay, according to Joy Tsubooka, Santa Rosa County public information officer, called into action fire fighters from Jay, Allentown, Berrydale, Whiting Field, Skyline, Flomaton, Brewton, and Escambia County within five minutes of the call received at 11:09 Wednesday morning.
Flames rose from the east and west sides of the church and smoke billowed from the whole building even pouring from a vent above the front door. A pair of firefighters from Allentown kneeling with a hose in the parking lot blasted water into the widespread fire on the west side as the Escambia Fire Rescue crew extended a ladder over the east side of the building to angle a stream deep into the blaze.
While the Flomaton truck was dousing fire closer to the roof of the main entrance. Flames devoured the roofs of all three sections of the T-shaped church and were clearly visible through the windows.
Parishioners could only watch, at first, huddled under a nearby pavilion to keep out of the way of the fire crews and out of the pouring rain falling off and on throughout the inferno. Once the fire and rain waned, some people were able to rescue what items they could from the church. Members and some firefighters brought out stacks of hymnals and bibles, a donation box, pedestals, and two mossy crosses from the entrance doors.  
This article originally appeared on Santa Rosa Press Gazette: Jay church consumed by fire