Improv group opens at Oops Alley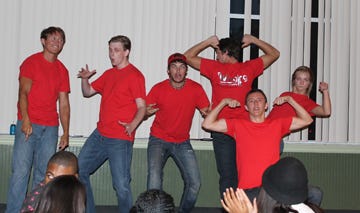 The local improv comedy company, Winging It, displayed their off-the-cuff talents Saturday night in their first paid performance at Oops Alley. Aaron Price played host asking the audience for places or objects for scenes the actors, Chase Gaines, Courtney Shivley, Levi Leet, Garrett Metzler, and John Haten used in spontaneous jokes, frenetic performances, and rapid-fire scenes.
The night featured two performances: a 6 to 8 p.m. all-ages show and a 9 to 10 p.m. 18 and older show. By the 6 p.m. show time, the seating area was standing room only.
While the first half of the family-oriented show was slow to start, the group found its footing after intermission and demonstrated high energy character and scene switching with games like "Growing and Shrinking" and "Song Cue". The latter game required making up music and lyrics on the spot by Metzler and Leet ending in a completely improvised duet.
While all performers had their shining moments, Leet and Gaines stood out Saturday. Leet demonstrated an ability to portray a variety of characters with timing and poise while Gaines summoned a comedic styling at times reminiscent of Ben Stiller.
After the end of the first show, Gaines, co-founder of Winging It with his cousin Price said, "We were hotter the second half. The crowd warmed up. We all had our weak and strong moments. You just got to wing it." Kendra Salter, a year out of high school, had a front-row seat to her first Winging It show. She said, "They show so much talent. They did a great job with the acts." Marian Hubbard, farther out of high school than Salter said, "I liked it. I had a fun time. They'll be really great."
Gaines said Winging It will be opening for Chloe Channell at her August 16 performance for Charity for Children.
This article originally appeared on Santa Rosa Press Gazette: Improv group opens at Oops Alley