Hunter sets sights on improving sport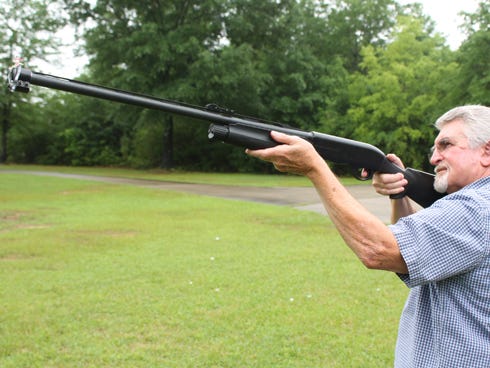 Over the course of three and a half years, Milton resident Jimmy Riley designed and patented a tool for novice and expert wing hunters and trap shooters. The device he calls an Elevated Gun Sighting Device; it's name is DeadBird. For now, the DeadBird is only available through Riley's website at www.barefootfollies.com and costs $75, not including shipping. Riley said he's aiming for a $50 cost down the road.
Riley said when out hunting he noticed novice hunters go through two to three boxes of shells. He determined he could create a tool to improve their accuracy, and so hatched the DeadBird. All American made, from a clear, polycarbonate material called Lexan, the DeadBird sight allows hunters to trail targets by way of the its markings to eliminate estimation, according to Riley. He said being off by the slightest amount can mean missing the target by feet.
With a few years fielding testing, Riley said he found a 25 to 30 percent improvement for novice hunters using DeadBird. Riley said he almost gave up hunting before creating the new sight. While he's said longtime hunters are reluctant to use a shooting assistant tool, those who have also noticed greater accuracy. Riley said among those, the younger hunters were more open to giving it a shot.
Riley said he's been in Santa Rosa County for 35 years and operated a fire sprinkler business from 1982 to 2006. He's been in full-time retirement since 2010, though still does computer aided drafting (CAD) work. Ten years before moving to SRC, he married his wife, Chris. With his sons aiding in testing and marketing, Barefoot Follies is a family-owned company.
Barefoot Follies Riley dedicated to his father, Carl J. Riley and his uncle, Bud Riley. "I offer special tribute to the two men in my life that meant so much in shaping my own character. Their bodies may lay at rest but their spirits will forever roam the fields and streams of that small community known as Svea."
Riley grew up in the small country community known as Svea, Florida. According to Riley, Svea was and still is a rural farming community located in the Florida panhandle. From the Barefoot Follies website: "As a young boy growing up, Svea may not have been a wealthy community by today's standard but it was one of the richest places on earth. Svea was rich in love, family devotion, character, wisdom, honesty, strong work ethics, patriotism, faith in God and all the other fine qualities that help make our great nation. I was really blessed to have grown up in Svea, in my early years, and to be able to maintain a tight bond throughout my life. I was so fortunate to have wonderful loving parents and mentors of impeccable character to help shape my own life."
This article originally appeared on Santa Rosa Press Gazette: Hunter sets sights on improving sport