How to make spring cleaning easier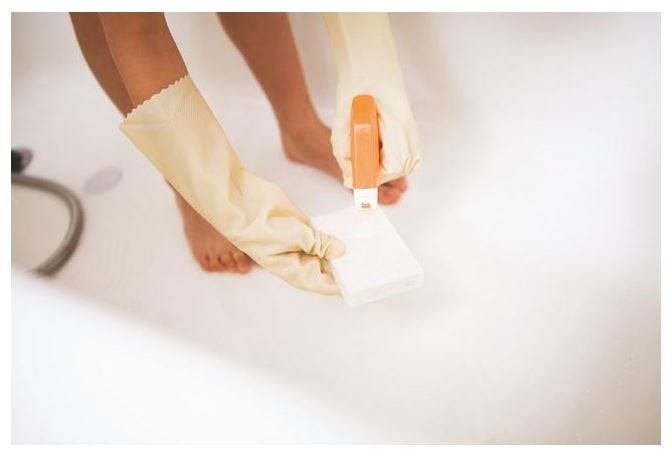 TIP OF THE WEEK
Wiping away the grime of winter doesn't have to mean launching an attack with dangerous chemicals. As you tackle this year's spring cleaning chores, take a note from Mother Nature and rely on the cleaning power of a surprisingly effective natural product: vinegar.
During the last century, vinegar has become increasingly recognized as a low cost and eco-friendly household product. From cooking and canning, to cleaning items indoors and out, homeowners are discovering that this eco-friendly, acetic liquid is as versatile as it is useful.
"Cleaning with vinegar has always been an effective way to banish dirt and grime in kitchens, bathrooms, the garage and the outdoors," said Mike Smith, executive vice president of sales and marketing at Mizkan Americas, the makers of Four Monks Cleaning Vinegar.
Despite its strong cleaning power, vinegar does have one downfall: its distinctive odor. You can experiment with dozens of DIY recipes online to overcome this dilemma, or you can rely on a store-bought non-toxic cleaning vinegar, which is made from a proprietary process that reduces the strong aroma and leaves a clean, crisp scent.
Learn how vinegar can make it easier to tackle common tasks around the house with these hacks and discover more uses for cleaning vinegar at VinegarTips.com.
In the Kitchen
Clean off the blades of a well-worn can opener with an old toothbrush soaked with vinegar to help remove dirt and grease.
Clean your ice/water dispenser by running vinegar through the system. Flush the vinegar out by running water through the system for 30-60 seconds.
Rid your dishwasher of mineral buildup by pouring half a cup of vinegar into the reservoir and running an empty cycle. You can also use vinegar in the dishwasher instead of another glass cleaner to keep your glassware sparkling.
Renew sponges and dishrags by placing them in just enough water to cover them. Then add one-fourth cup of vinegar and let them soak overnight.
Remove dark stains on an aluminum pot by boiling two cups of vinegar. For stained and smelly plastic food containers and lunch boxes, wipe them with a cloth dampened with vinegar.
To clean a grease-splattered oven door window, saturate it with vinegar. Keep the door open for 10-15 minutes before wiping with a sponge.
Deodorize the garbage disposal by pouring in half a cup of baking soda and half a cup of vinegar. Let sit for five minutes then run hot water down the disposal.
Avoid using toxic chemicals where you store food; wipe up spills in the fridge with vinegar.
In the Bathroom
Rid a faucet of lime deposits by tying a plastic bag containing one-third to one-half cup of vinegar around it and leaving it there for two or three hours. Wipe down with a sponge and scrub any remaining deposits with an old toothbrush. The same approach can be used to remove buildup on a showerhead.
The fizzing combo of vinegar and baking soda can unclog and remove odor from a tub drain. Pour half a cup of baking soda in the drain, then follow with two cups of hot vinegar. Immediately plug the drain with a rag to keep the bubbles contained for 10 minutes. Rinse by pouring a kettle of boiling hot water down the drain.
Spray shower doors with vinegar after you've squeegeed the glass – or before you turn on the water – to help release hard water deposits.
Clean shower door tracks by filling them with vinegar and letting it sit for a few hours. Pour hot water into the tracks and scrub away any remaining film with a toothbrush.
To make the toilet bowl sparkle, pour in a cup or more of vinegar and let it sit for several hours or overnight. Scrub well with the toilet brush and flush.
Remove old bathtub decals with vinegar heated in the microwave.
In the Laundry Room
Remove coffee and tea stains by flushing the area with vinegar, rinsing and repeating. For wine stains, saturate the spot with vinegar and allow it to stand for several minutes. Then, wash as normal. Tip: For more delicate fabrics or precaution, test on an inconspicuous part of the garment first.
Restore yellowed clothing by soaking garments overnight in a solution of 12 parts warm water and one part vinegar. Wash them the following morning.
Soak new garments in a few cups of vinegar for 10-15 minutes before washing to stop dyes from running in the wash.
If frequent ironing has left your iron plate dirty, make a paste from one part vinegar and one part salt to scrub it clean.
Remove scorch marks from an iron by rubbing it with a warm solution of equal parts vinegar and salt. If that doesn't work, use a cloth dampened with vinegar.
Forgot that you left wet laundry in the machine and it now smells moldy? Pour a few cups of vinegar in the machine and wash the clothes in hot water. Then run a normal cycle with detergent to rinse the clothes.
Prevent lint from clinging to clothes by adding half a cup of vinegar to the wash cycle.
What Is Vinegar?
Vinegar is the acetic liquid that results when a product containing sugar is allowed to ferment. Vinegar can be created from nearly any product containing sugar; fruit and grains, such as barley and corn, are common sources of vinegar.
The ingredients in vinegar depend on the type of vinegar produced. All vinegars are diluted with water to the preferred acidity before bottling. This acetic quality is what enables vinegar to effectively clean while being safe for the body and the environment.
— Family Features
HOME-SELLING TIP
Add skylights
Any real estate professional will agree: buyers love balanced natural light. Adding Energy Star-qualified, no-leak skylights is a cost-effective improvement that enhances a home's appeal to potential buyers, as well as its livability for the people currently occupying it. They're particularly popular in bathrooms and kitchens, but skylights can go in any room where you want more natural light, an open, airy feeling and a brightened appearance.
— Brandpoint
DECORATING TIP
Writing on the wall
Turn your child's room into an area that's both fun and educational with a wall coated in chalkboard paint. It's available in a variety of colors so the blackboard no longer has to be black.
The paint can also be used in a framed area of a kitchen wall for a shopping list or a study for a erasable calendar.
— More Content Now
GARDEN GUIDE
Know your zone
For successful seed sowing and planting, you first need to know what plants do well in your location and when to put them outside. An interactive, Geographic Information System-based map is available online at planthardiness.ars.usda.gov. Just enter in your ZIP code to find out your zone.
— More Content Now
This article originally appeared on Santa Rosa Press Gazette: How to make spring cleaning easier