Hill Goodspeed guest speaker at DAR January meeting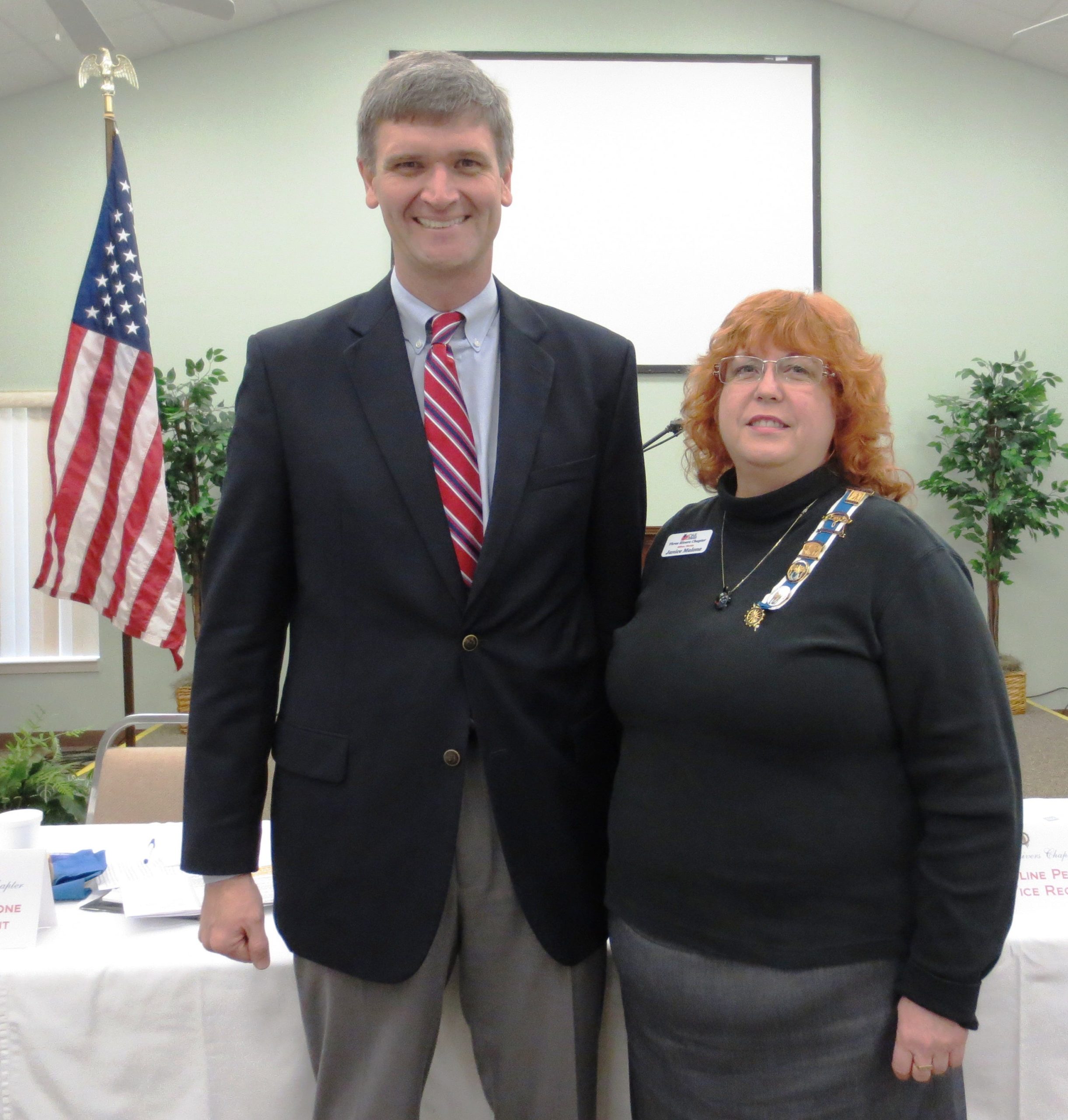 January 10, 2015 the Three Rivers Chapter, National Society Daughters of the American Revolution, held their meeting at the Bagdad United Methodist Church Fellowship Hall.
            Guest speaker was Hill Goodspeed, Historian, from the National Naval Aviation Museum. His educational and most interesting presentation was on acquiring many of the artifacts at the Museum and their history.
            Mr. Goodspeed is a native of Pensacola, Florida, and received his undergraduate degree at Washington and Lee University, majoring in history and journalism. He also holds a master's degree in history from the University of West Florida. Since 1994, he has worked at the National Naval Aviation Museum in Pensacola, where he holds the position of historian. Mr. Goodspeed is the author or editor of five books and has contributed to two others, among his works the book of U.S. Naval Aviation, which Naval Institute Proceedings named one of the notable naval books of 2001. Another book, Skylines of the World: Yesterday and Today, was featured on the Today show in 2006. His more than 30 articles and book reviews have appeared in such publications as Proceedings, Naval History, Wings of Fame, International Air Power Review, Foundation, The Journal of Military History, The Journal of Public History, and Naval Aviation News. He has also appeared frequently as a historical commentator on PBS, Discovery Channel, and History Channel programs. Mr. Goodspeed is the recipient of the 2012 Freedoms Foundation at Valley Forge Meritorious Award for Public Communications and the 2014 Arthur W. Radford Award for Excellence in Naval Aviation History and Literature.
            Items were brought for Fisher House and the Landstuhl Regional Medical Center in Landstuhl, Germany for our injured active duty military personnel. Cash donations were also collected to purchase snacks for the Pensacola Regional Airport USO.
            If you are interested in the Daughters of the American Revolution or Children of the American Revolution, please email Suzanne Terry, Regent, at rterry3@bellsouth.net.
This article originally appeared on Santa Rosa Press Gazette: Hill Goodspeed guest speaker at DAR January meeting