High lot prices the crux of courthouse plan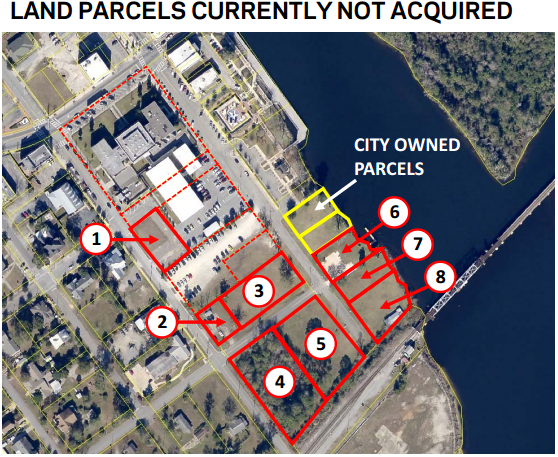 Monday, Santa Rosa County Attorney Roy Andrews said the property owners of the five parcels behind the courthouse needed for a new judicial center are willing sellers. However, he said, "We do not have a price from them as of yet." He added, if the sellers produce prices soon enough, those figures may be available at Thursday's commission meeting in Tiger Point. The crux of the problem could be the owners' asking prices.
If the tax last year would have passed, the site would have won without asking prices known or any agreements or contracts made between the county and owners. Commissioner Rob Williamson said the same. "I don't know why it wasn't vetted in this detail in the past. This is my first time in this process, and I'm glad to see the vetting now is something more akin to what I'm used to in the private sector. Usually what happens after thorough due diligence, the facts will lead to a correct decision."
Both Rob Williamson and Commissioner Bob Cole said they heard the asking price for the most critical piece of property, an empty lot noted as parcel number 1 by HOK at 6875 Oak Street would run in the millions. The property appraiser's website has the land there listed at $16,483 under 2014 Preliminary Values. Cole said he's been in touch with the owner, Cassandra Sharp, owner of the Old Post Office Antiques and Mainstreet Café. Asked about the high price for her property, Cole said the appraised value doesn't meet with her intent for development.
Cole said, "It was an oversight on our part to expect (the parcels) to be sold at the property appraiser's value." He said there was a lack of time before last year's referendum to get those numbers while the west and east side properties were secured by the county.
Duncan Broyd, senior VP with HOK, the county's design firm for the judicial center, said since 2000, plans for the downtown Milton site have included property the county doesn't own.
Cole asked Andrews if there was any leverage the county had other than eminent domain to deal with a property owner asking a larger price than what the county might pay. Andrews said eminent domain was "the only legal remedy" for the county. Cole, who's shown against legal domain from the beginning, spoke again Monday against using the governmental process. Commissioner Lane Lynchard said the board shouldn't even be discussing eminent domain before learning the owners' asking prices.
A majority of commissioners, Lynchard, Rob Williams, and Jayer Williams have expressed support for downtown as the best site for the new judicial center. Lynchard said if the location becomes unfeasible without resorting to eminent domain, the board may look elsewhere again.
This article originally appeared on Santa Rosa Press Gazette: High lot prices the crux of courthouse plan