Help Bay Area Food Bank stamp out hunger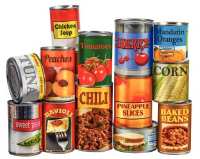 WHAT:             The National Association of Letter Carriers, Bay Area Food Bank, United Way of Escambia County, and the AFL-CIO team up for Stamp Out Hunger – the nation's largest annual single-day food drive, on Saturday, May 10.
                        In 2013, Stamp Out Hunger brought in more than 160,000 pounds of donated food from the community.  This single day effort provides nearly 123,000 meals to those in need and allows the food bank to stock the shelves for any disaster relief efforts required for the summer storm season. 
                       "We are very thankful for the support of the community and the National Association of Letter Carriers for coming together for this food drive," said Bay Area Food Bank's Executive Director, Dave Reaney.  "All of the letter carriers volunteer their time and labor to make this happen.  They don't have to participate.  They do it because they care about the community they serve."  
WHERE:           Milton Post Office
                        5111 Dogwood Dr.
                        Milton, FL 32570
Pace Post Office
4584 Chumuckla Hwy
Milton, FL 32571
WHEN:             Saturday, May 10, 2014
                        3 – 6 p.m.  
WHO:               Members of the National Association of Letter Carriers, Bay Area Food Bank, and the AFL-CIO, Volunteers
ADDL'              How to Participate –
INFO:               To participate, place nonperishable food items in the bag left by your letter carrier beside your mailbox on the morning of May 10 before the carrier arrives. The bag will be picked up by your letter carrier and taken to the local post office where volunteers will unload and sort the donated items.  The items collected at the Milton and Pace post offices will be given to Bay Area Food Bank.  Anyone who does not receive a bag in the mail can deliver their donated food items directly to the food bank or their local post office.  To learn more about the food drive and see list of the most need items, visit www.bayareafoodbank.org.
   The food bank's most needed items include canned meats, canned vegetables, canned fruit, soup, peanut butter, dried beans, rice, and cereal.  The food bank cannot accept glass containers, baby food, alcoholic beverages, homemade items or any item without a manufacturer's label.
This article originally appeared on Santa Rosa Press Gazette: Help Bay Area Food Bank stamp out hunger