Gulf Power and military large-scale solar plans approved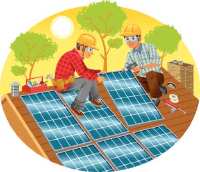 Gulf Power is partnering with the U.S. Navy and U.S. Air Force to build solar energy farms at three different facilities across Northwest Florida. Today, the utility received unanimous approval from the Florida Public Service Commission for all three renewable projects.
"Adding solar energy to our portfolio is another step in further diversifying our energy mix," said Stan Connally, Gulf Power president and CEO. "Through careful planning, we've been able to work alongside our military partners to help provide cost-effective renewable energy — and all our customers will reap the benefit."
The solar energy farms will be constructed at Eglin Air Force Base in Fort Walton Beach (30 megawatts), Naval Air Station Whiting Field, Outlying Landing Field Holley in Navarre (40 megawatts), and Naval Air Station Pensacola, Outlying Landing Field Saufley in Pensacola (50 megawatts).
Gulf Power will serve customers across Northwest Florida with power from these renewable energy-generating facilities. Together, these new solar facilities, which will be developed by HelioSage Energy, could produce enough energy to power approximately 18,000 homes for one year.
As an intermittent energy resource, the solar farms will not replace Gulf Power's generation plants, but will have the capability to provide energy that will diversify the power supply and provide a cost-effective alternative during peak energy usage.
Construction is scheduled to begin in February 2016 and the facilities are expected to be in service no later than December 2016.
The company's first renewable energy project was the 3.2-megawatt Perdido Landfill Gas-to-Energy facility, which has produced more than 100 million kilowatt hours of electricity since starting commercial operation in 2010.
Gulf Power also submitted a request in February to the FPSC to approve an agreement that would make the utility a leading purchaser of wind generation among Florida utilities. If approved, this would bring the company to a total of five renewable energy sources.
This article originally appeared on Santa Rosa Press Gazette: Gulf Power and military large-scale solar plans approved