Gulf Coast Tour de Cure 2015 raises more than $124,000 (PHOTOS, VIDEO)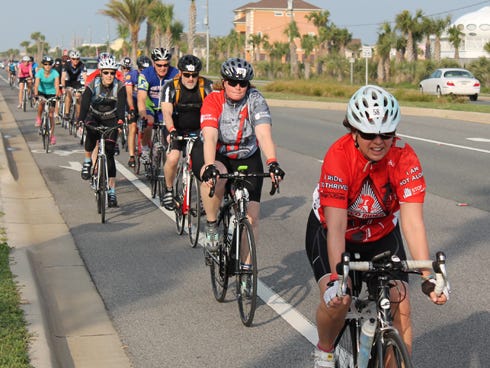 Participants near and far gathered to show their support and awareness for diabetes by riding their bicycles on Saturday at Pensacola Beach during the 2015 'Tour de Cure' event, which benefits the American Diabetes Association.
Click here for a photo gallery from Saturday's 'Tour de Cure'
 Joey Martin and his wife, Mavis travelled to Pensacola from Cullman, Alabama. In addition to being a paraplegic, Martin is also diabetic.
"I started riding because I am a diabetic," Martin said.  "My blood sugar kept going up…I had to do something for exercise."
This was the first time Martin had participated in an organized bicycling event. He and his wife competed in the 18-mile course.
Martin said riding in his specialized bicycle helps manage his diabetes.
"I got the bike and started riding and as long as I am riding, I don't have to take any medication," he said.   
Fellow rider Susan Allen of Milton also agrees there are several benefits or bicycle riding.
"Exercise really helps out if you are a diabetic," she said. "It makes your insulin work better. If you keep your weight down a little bit that helps too."
Allen has her own inspiration for what keeps her participating in the Tour de Cure.
"I have a sister who also has diabetes for over 40 years and she also rides (in Tour de Cure events)," she said. "She does hers and I do mine."
Like Martin, Allen is also very adamant about raising awareness for diabetes.  
"I think this is a great event, because I have been a diabetic for the past 25 years, and all of the strides they have made in the pumps…it's really been worth it," Allen said.
In addition to showing awareness for diabetes, Gulf Breeze resident Jerry McLendon rode in memory of his late mother-in law, Pearlie Underwood, who died from diabetes in 2008.
The 66-year-old, who is also diabetic, said raising awareness and is very important cause.
"In my lifetime, they will probably never be a cure diabetes, but the thing is (we want) to make things less uncomfortable and less miserable," he said. 
McLendon had his own support group at the event, which included his wife and two daughters. Jerry's wife, Katri, is very proud of her husband.
"He has always been very fit and he had a heart attack two years ago next month and he has made some real life changes by stopping smoking and became really health conscious," she said. "I am just proud as I can be of him."
This article originally appeared on Santa Rosa Press Gazette: Gulf Coast Tour de Cure 2015 raises more than $124,000 (PHOTOS, VIDEO)