Grover T's: A true Southern experience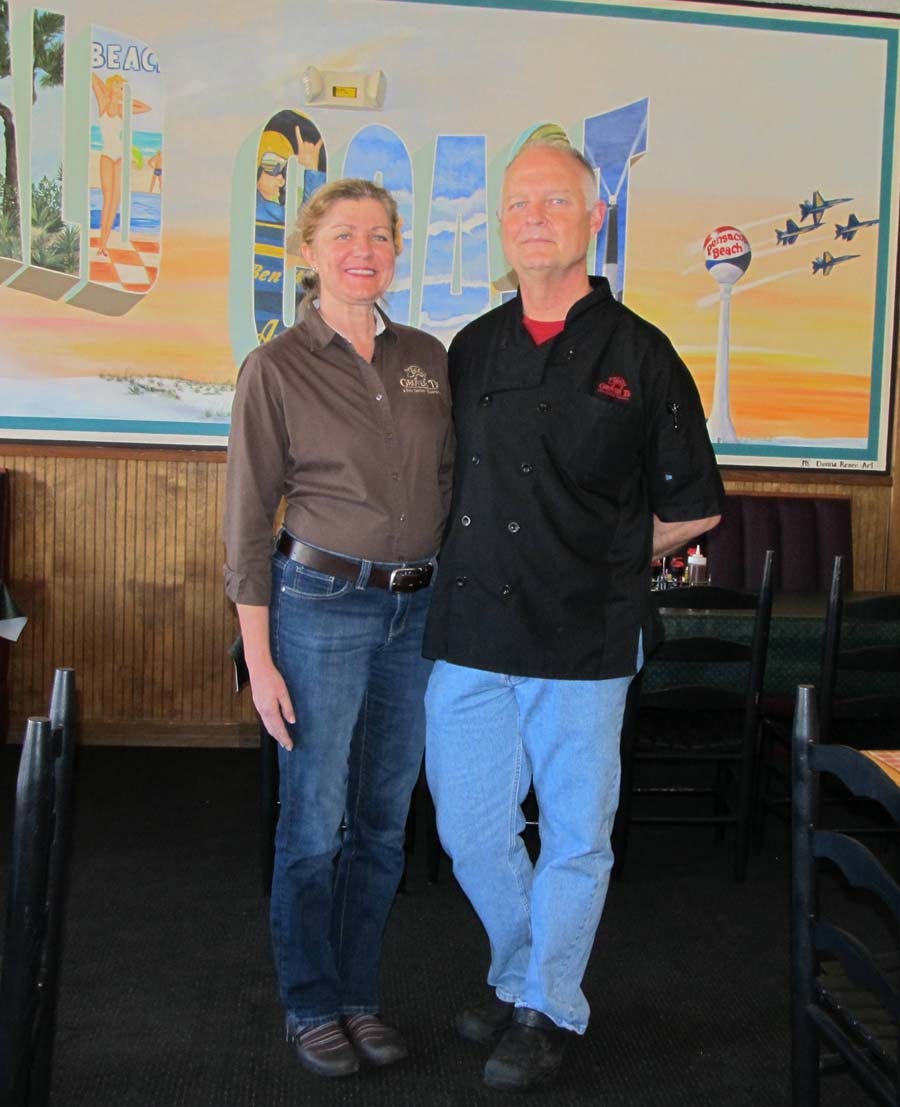 When eaWhen eatingt                        
When eating out, individuals and families look for a restaurant that's convenient and accessible, comfortable, and where the serving staff is warm, friendly, and efficient. But most of all, they choose to go where they feel welcome and where food is prepared the way they like it.
Well, Grover T's BBQ offers all these anticipations, and then some. Although BBQ is their signature serving, it is by no means the only thing on their menu. Not only do they serve some of the best BBQ in the Florida Panhandle, it, and all their other dishes, come to your table with a lot of pride in preparation and years of experience invested in making it the way you want it. Some characterize the food, service, and atmosphere at Grover T's as ambience, but to the management and staff its simple Southern hospitality.
The owners and managers have gone out of their way to make Grover T's BBQ one of the finest eating places in the area. Newly redesigned and remodeled, it has several large, spacious, attractive rooms that will seat hundreds of guests at once. The Blackwater River Room is available for parties and meetings. Others include the BBQ Room, and the Emerald Coast Room. Complete remodeling includes new furniture, new and attractive floors, murals by local artists, and lighting that accents the new equipment.
The menu specialties include slow-smoked pork, chicken, beef, turkey, and St. Louis-style ribs, cooked to perfection, in some cases as long as 18 hours. You know what they say, "If it doesn't have a pink ring, it's not the real thing!" Management and guests who have experienced it highly recommend a few of Grover T's Special Southern Cooking Favorites which include catfish, shrimp etouffee, chicken tenders, and Shrimp and Grits, a signature house special. And then there are the soups and salads that include Uncle Tommy's Brunswick stew, and Creole Smoked Chicken and Sausage Gumbo. Right up there with all the other great vittles is the Stuffed BBQ "tater" that's a one-pound baked "tater" with your choice of Pulled Pork, Beef Brisket, or Smoked Turkey Breast topped with BBQ Sauce shredded Cheddar and green onions. If you would like a relaxing glass of wine with your meal, it's also available, in addition to the beer selections.
There are also affordable lunch specials which include Pulled Pork or Chopped Beef Brisket Sandwiches. Other favorites include Military Monday where one dollar will get a Domestic Pint and 10 percent off a meal. One-half pound, hand-made Angus chuck burgers are served on a toasted bun and a side order of French fries. All this leads up to Grover T's BBQ plates, BBQ Combos and Grover T's BBQ " Soon to be Famous" St. Louis style ribs.
Dinners down south include catfish, old Charleston style shrimp and grits, shrimp etouffee, fried or grilled shrimp dinners. Chicken tenders dinner and fried or char-grilled chicken breast dinner, there is also a vegetable plate for those who want only vegetables. And a vast array of vegetables is available: french fries, potato casserole, onion rings, green beans, fried okra, potato salad, cole slaw, collard greens or perhaps the vegetable of the day.
All these wonderful foods cooked the way you want them didn't just happen. It is the classic touch of Operating partner Bob Page and his wife Jewell Page and well known businessman and restaurant, Mike Thomas, who has operated the Tastee Freeze on Highway 90 for many years. The other Partner in the business is Rodger Head who has a lifetime experience in the restaurant business, and who is presently engaged in projects in Nashville. The total experience reflected among the owners and managers exceed a hundred years. And all of this hands-on experience in the business has all been combined for guests at Grover T's BBQ. There are a lot of places that offer "barbeque", but nothing like what you'll find at Grover T's. Manager Bob Page is a "hands-on" manager, which means that he's in the Restaurant and seeing that things go smoothly. Jewell Page is the one who oversees the catering part of the business. You can expect to see any one or all of the business partners in the restaurant from time to time.
Among the fixtures in the BBQ Room is the restaurant mascot, a gigantic hog (or pig or shoat) that blends right in with the restaurant's offerings of BBQ.  Kids will love to get close to him or perhaps actually touch him. He's very gentle and oversees much of the activity that goes on around him. They call him Trevour G. The name incidentally is Grover T's spelled backward.
A true Southern Experience is what the partners and managers have sought to create, and most any guest who has eaten there will verify that. They understand the importance of offering the best possible food and impeccable service.  Bob Page is the BBQ expert who has over 35 years of restaurant experience including work at Luther's Bar-B-Q, and Tony Romas A Place for Ribs,
Grover T's BBQ is named after Mike's father, Grover, who was successful Tastee Freeze franchisor of the Northwest Florida and South Alabama region. Grover was a true businessman and helped many families start and run successful businesses. Mike's family roots date back several generations from Santa Rosa County.
Located at 5887 Highway West in Milton, Grover T's is open Sunday through Thursday from 11 a.m. to 9 p.m. On Fridays and Saturdays, they open at 11 a.m. but stay open until 10 p.m. The location and hours are customer-friendly and have served many a meal since opening in late October 2013.
Both Bob and Mike have never encountered a stranger—only a friend who they have never met. Take some time out for a visit and a meal at Grover T's. Experience BBQ like you've never had it before.
This article originally appeared on Santa Rosa Press Gazette: Grover T's: A true Southern experience