Girl Scout organization to host fundraiser with Trail Run 5K, One Mile Run/Walk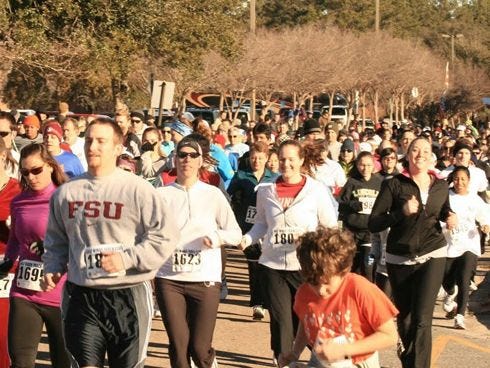 The Girl Scouts of the Florida Panhandle is partnering with the Escambia County Sheriff's Office in organizing the Girl Scouts Trail Run 5K and One mile Run / Walk for February 21.
"The trail run is a great way for families and individuals to enjoy a morning run or walk on the campus of the University of West Florida while Girl Scouting," said Raslean M. Allen, the chief executive officer of the Girl Scout Council of the Florida Panhandle, Inc.
According to a press release from the Girl Scouts of the Florida Panhandle, the event which will take place at the University of West Florida campus is open to all ages – including families, individuals, troops and groups. Awards are provided in several categories and a special recognition is given to the area Girls Scouts troop with the most entrants at the event. The college fraternity or sorority with the most finishers receives a free weekend at camp. The school team with the most finishers in the One Mile/Walk will receive a pizza party.
Proceeds from the event will assist the local Girl Scout organization with their destination travel program.  According to the press release, the proceeds will help cover the cost associated with educational experiences and adventures of Girl Scouting. The scouts already help offset the cost through community service.
As an example, seven area girls scouts traveled to Salt Lake City in Utah in order to attend a triennial conference, which provided leadership skill building activities at an event titled the Girl Scout Leadership Institute, or GSLI.
  Sponsorship for the event is still available. For more information contact E. Michelle Kyser at 434-1333 – or toll free at (888) 271-8778  or by email at  ekyser@gscfp.org, or visit www.gscfp.org.
What: Girl Scout Trail Run 5K and One Mile Run/Walk
When:  The 5K Run begins at 8 a.m. on February 21, 2015.
Where: The University of West Florida Multipurpose Field, located at 11000 University Parkway in Pensacola
Registration:  Register online visit at RaceIt.com.  Early registration and race packets are available at Academy Sports and Outdoors at 1771 N. Davis Highway in Pensacola on February 18 from 3 to 6 p.m.
Cost:  Early registration fee is $15.The One-mile entry fee is $10. Registration on the day of the event is  $18 for the 5k and $10 for the One-Mile. Early registration begins at 7 a.m. at the race site.
This article originally appeared on Santa Rosa Press Gazette: Girl Scout organization to host fundraiser with Trail Run 5K, One Mile Run/Walk