Free Wind and Jazz Ensembles Concert set April 7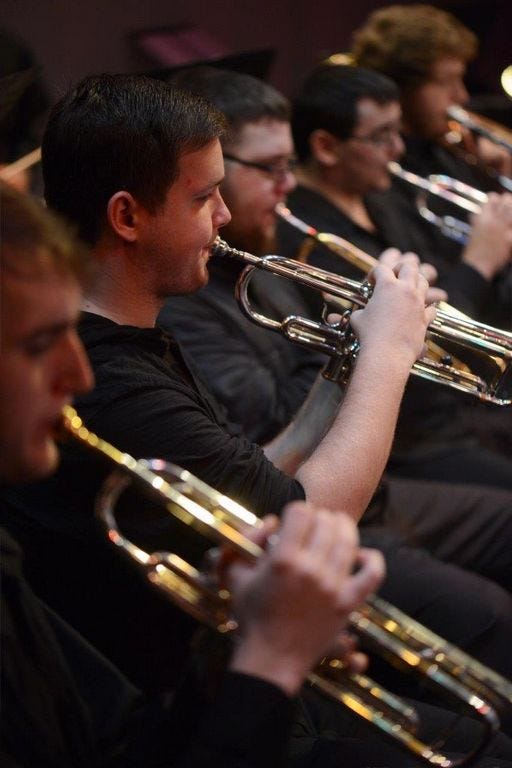 PENSACOLA — Pensacola State College presents the Wind and Jazz Ensembles in a free concert 7:30 p.m. April 7 at the Ashmore Auditorium, Building 8, on the Pensacola campus, 1000 College Blvd.
Doors open at 7 p.m. No tickets are required.
The Wind Ensemble's program, "American Scenes," directed by PSC Performing Arts Department Head Don Snowden, features music inspired by locations throughout the United States.
The concert opens with John Philip Sousa's "New Mexico March" followed by Clare Grundman's "Concord," which was commissioned by the U.S. Marine Band commemorating Concord, Massachusetts.
The late Frank Bencriscutto's "Summer in Central Park" features PSC woodwind major, Shaun Langley, on soprano sax in this jazz-influenced composition. Ron Nelson's "Rocky Point Holiday" rounds out the Wind Ensemble selections.
Roger Villines leads the acclaimed 18-member PSC Jazz Ensemble in a variety of selections including "Street Music" by Fred Strum, "When I Fall In Love" by Victor Young and Edward Hayman, "Pegasus" by Hank Levy, and "Tank!" by Yoko Kanno.
This article originally appeared on Santa Rosa Press Gazette: Free Wind and Jazz Ensembles Concert set April 7