Forest service donates, plants trees for FloridaÂ's Arbor Day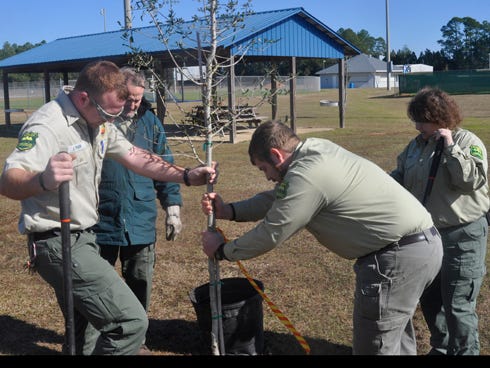 In celebration of Florida's Arbor Day, staffers with the South Santa Rosa County branch of the Florida Forestry Service  recently donated and planted eight live oak trees at the Santa Rosa County Sports Plex in Pace.
"They needed some trees here and it worked out great," forester Ian Stone said.
Stone along with a couple of forestry service members planted the final two live oak trees at the Pace facility on Friday.
In the future, Stone said the trees offer several benefits to the complex.
"Live Oaks can live for a long time, 300 years or better," he said.
Other benefits the trees will provide is natural shade, Stone said. Once fully grown the trees will also add wind resistance to nearby structures at the complex.
In celebration of Florida's Arbor Day, staffers were also giving away free tree seedlings − including Eastern redbud, river birch, white ash and pond cypress – on Friday at the Publix in Pace.
Unlike the National Arbor Day, scheduled on the last Friday in April, Florida's Arbor Day is scheduled for the third Friday in January.
"Arbor day started up north…in those states the ground is still frozen in January you got to wait until April when the ground is going to thaw out to plant trees," Stone said. "We never get full ground freezes here in Florida, it's the climate difference." 
This article originally appeared on Santa Rosa Press Gazette: Forest service donates, plants trees for FloridaÂ's Arbor Day