Flower arranging workshop at Milton Garden Club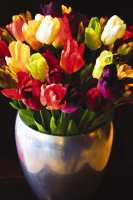 Have you have ever admired the flowers available at the supermarket and wished you had the talent to arrange them?  Your opportunity to learn flower arranging is October 18. The Milton Garden Club is hosting a hands-on workshop called "Fun with Flowers." This event is open to the public. The Milton Garden Club is thrilled to bring Nationally Accredited Floral Design Instructor Gina Jorgan to Milton. Gina travels extensively presenting programs and workshops.  Each participant will leave with the floral arrangement that they have made themselves.   All flowers, containers, foam and other supplies will be provided for you to work with and take home.
Supplies needed for the workshop are clippers, or sharp scissors, and 2 trash bags for debris and to cover the work station.   
The workshop is $25 per person in advance. Seating is limited, and no tickets will be sold at the door.  Please send your registration fee to Gina Jorgan, 6735 Highway 99, Molino, FL 32577 4049. Please write Fun with Flowers in the lower left hand corner of your check.  Morning refreshments and coffee are included with your ticket.  A delicious light lunch will be available for a small charge. A variety of plants will be available for sale.
Milton Garden Club is located at 5256 Alabama St.  Doors will open at 8: 45 a.m. and we request everyone be seated by 9:15 a.m., demonstrations start at 9:30.
For questions call 626-2003, leave a message including your phone number and someone will get back to you. 
This article originally appeared on Santa Rosa Press Gazette: Flower arranging workshop at Milton Garden Club