Flicks on the Field to return to PARA next year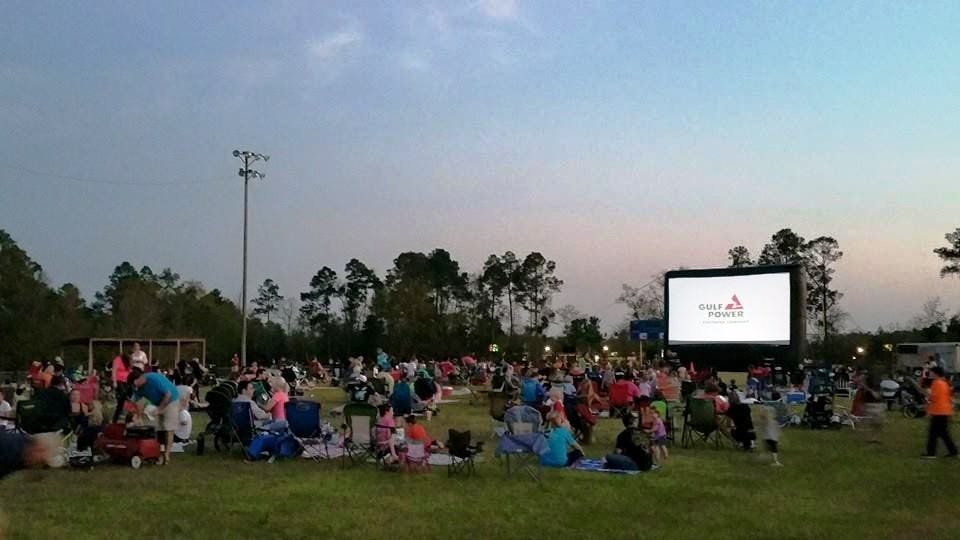 Throughout the month of March, Santa Rosa County residents enjoyed four nights of outdoor movies thanks to SRC Board of County Commissioners. Flicks on the Field as it was known took place at the Pace Athletic & Recreation Association sports ground and funded through Commissioners Jayer Williamson and Don Salter's parks and recreation funds. While Williamson said attendees to the event supported it despite inclement weather two of the nights, it will be too cost prohibitive to attempt again before next year.
In his first District 1 video newsletter, Williamson said, "Flicks on the Field was the first ever movie series put on by the county. A 43-foot screen was put at the end zone of the PARA football field. We had over 1,000 people show up in that 4-week series and people were asking when are we going to do this again. We're certainly going to do it next year if not before so I look forward to seeing you at the next flicks on the field." He later said if Flicks on the Field doesn't return until next year, maybe the county will run six movies instead of four.
Williamson said the only costs for the event came from the company hired to setup the event and the license agreement for each movie as the county owns the PARA field. The total for the event he said was roughly $10,300.
 Williamson described Flicks as a win-win for PARA Youth Sports and event attendees. PARA athletes at Flicks sold sponsorships. "The easy thing could have been to write a check to PARA, but instead we wrote a check for an event and allowed them to raise money." Williamson said the goal was for PARA to make as much or more than the cost of the event, but he said an event next year with more planning could raise more sponsorships to outweigh the cost. Concessions sold at the event also benefitted PARA Youth Sports.
Williamson lauded being able "to spend a little bit of money to have over a thousand people be able to do something for free in community." Through Facebook, Williamson shared information on Flicks through the month-long event. After the March 6 showing of Penguins of Madagascar, Brandy Griswold commented on Williamson's post, "Great movie for the temps… Make you feel like you're in the movie…[sic]" For the rescheduled showing of Big Hero 6, Sharon Glass wrote, "What a pretty night for a movie. Glad you postponed it until tonight so families could enjoy it [sic]."
This article originally appeared on Santa Rosa Press Gazette: Flicks on the Field to return to PARA next year