Fair changes name for area growth in youth livestock interest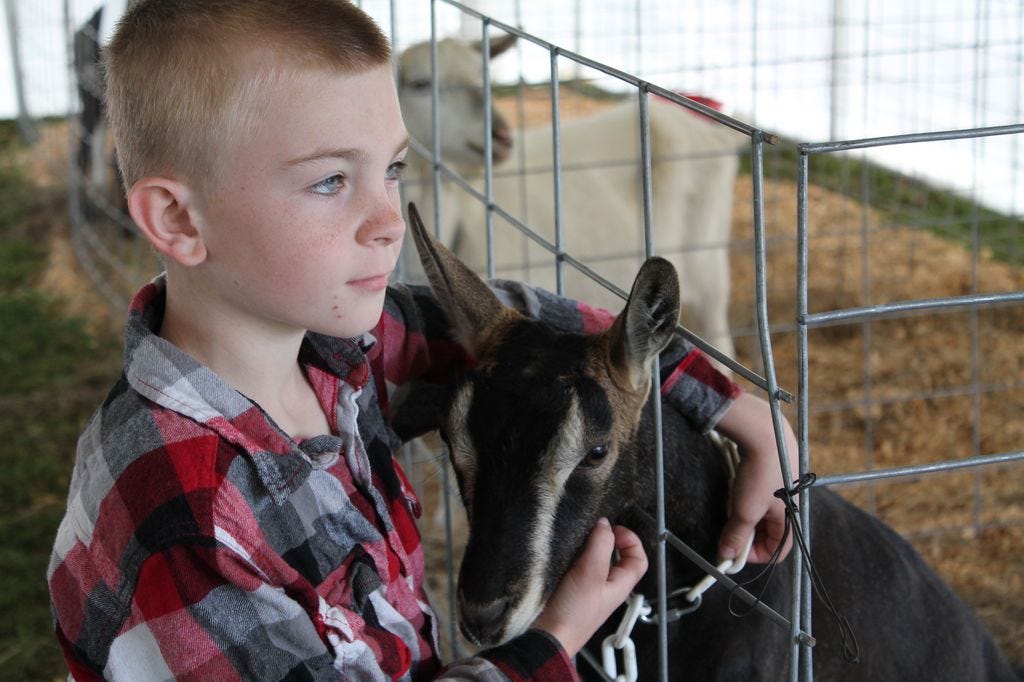 The Fair isn't just a fair anymore.
 With a month and a half left until the Santa Rosa County Fair begins, Prudence Caskey, county 4-H agent and Fair board member, discussed why the nonprofit organization changed its name to Santa Rosa County Fair and Youth Livestock Show. While the typical 9 day event has always had a youth focus, Caskey notes, "it's not just about funnel cakes and Ferris wheels."
Caskey said the name change also coincides with the fair's 25th anniversary. "When it started, it was focused on being able to showcase the things our youth have done, and so we wanted to circle back to that…we really want to help youth."
The name change also comes as a response to the increase in livestock show participation by area youth over the last five years, according to Caskey. "It's just gone tremendously from where it was, so the livestock portion of the fair is much bigger and we wanted to acknowledge that. (It is) not just a few cows in the corner. Livestock is a big portion of the fair."
As lead facility planner and fair volunteer, Kyle Holley, noted back in December, local youth participation has increased an estimated 300 percent since last year. This growth translates to 27 students expected to show steers, 15 students expected to show breeding heifers, over 50 students showing hogs, 20 students showing dairy and market goats, and 30 showing poultry totaling 142 participants just from Santa RosaCounty.
To add to the numbers this year, Caskey said between the three schools showing animals this year (Milton High, Jay High, and CentralSchool), they have the following animal projects started: 4 heifers, 12 steer, and about 30 to 40 hogs. By press time she did not have the rabbit, poultry, or goat numbers. The heifers, she said, all come from Milton's FFA (Future Farmers of America) program and Jay and Central are covering the steer and hogs. She noted these likely are not the final numbers going into the show because some may get sick or not make weight. "One of my 4-H (students) had a steer but they're military being deployed elsewhere and that animal has already been processed so things fluctuate with it."
The students going into the livestock show learn more than just showing an attractive animal, according to Holley. He said they have to learn, "what is it genetically, phenotype, conversion rate of feed, learning discipline of showmanship. I don't want people to think (students will) buy something pretty and show it. If a kid has a great animal but doesn't know what they're talking about they won't do well."
Holley said, "The fair board and the education and agricultural community are all super excited to see livestock shows growing. It's grown so much the fair board wants to fully recognize it and push it hard so they offered to change the name."
Reiterating Caskey's point of the fair being more than rides, Holley said, "Some fairs become nothing but giant carnivals, but the whole reason is to celebrate agriculture. Changing the name reprioritizes agriculture education at the highest level."
There was talk on the fair board of possibly losing attendance due to this shift toward prioritizing the livestock show, but Holley was undeterred. "We think the average customer for a fair knows it's going to be rides and food no matter what so we don't think we'll lose any customers. A customer of a fair is a customer of a fair." In fact, Holley said the event is already drawing attendance from agricultural families across the region. "We see across the region other fairs' livestock programs are fading. Ours is going opposite the trend. Ours is burgeoning. Ours is growing. We should say, (to agriculture families) if it falls apart in your county, you should be with us."
Holley pointed out the livestock show already has people coming from Mariana, Jackson county and Escambia counties. "The 150 people we're talking about are in town, Santa RosaCounty kids."
Caskey hopes the growth and name change translates to more sponsor support. She said, one of the fair board's biggest challenges is public perception. "We are a board of volunteers. No one makes a profit. Sponsorship would be great."
To further demonstrate the growth of agriculture interest in Santa Rosa County, Mitch Lambeth, the agriculture teacher and FFA advisor for Central School said this Friday the school is having an animal science day at the Ag building. "It's turned into a small scale fair (with) 25 to 30 exhibiters. We're expecting a lot of people. Jill Hayes will be doing a cutting horse demonstration, a barrel racing demonstration. We'll have cattle, goats, pigs…There will be a few hundred people." The event Friday will run 9 a.m. to 2 p.m. at Central School located at 6180 Central School Rd, Milton. 
This article originally appeared on Santa Rosa Press Gazette: Fair changes name for area growth in youth livestock interest