EMS personnel demonstrate lifesaving techniques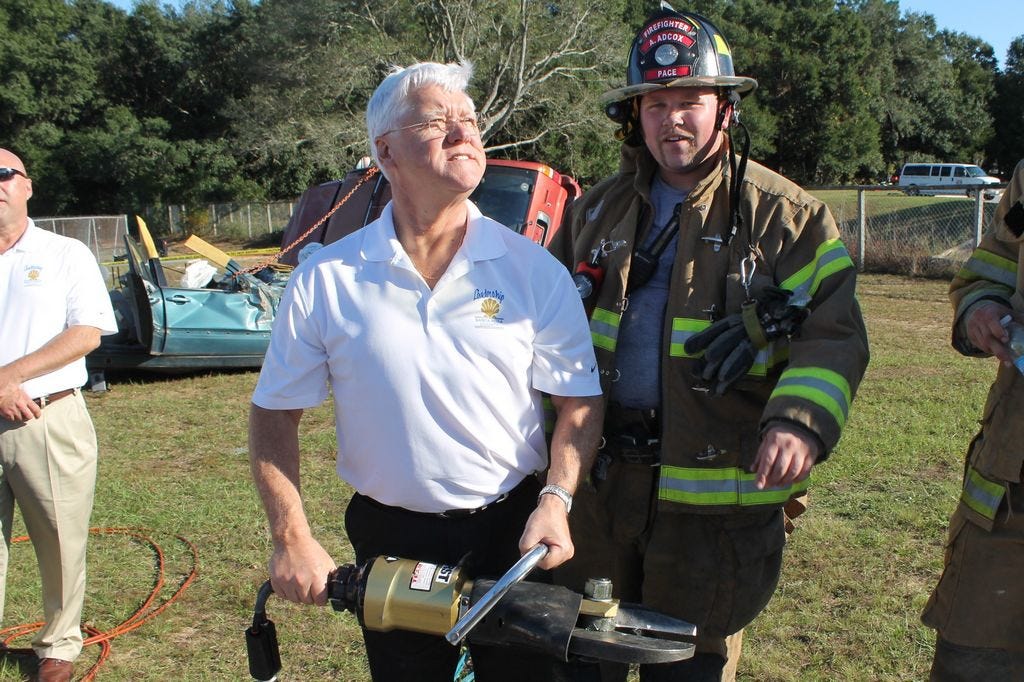 A brutal three-car pileup sent two victims to the hospital, one by air, and a third didn't make it. Emergency medical personnel responded rapidly, in full force, extracting the injured and getting them the help they needed. Fortunately, everyone survived because this was Lifeguard Ambulance Service's annual accident simulation put on for the benefit of Leadership Santa Rosa.
The two cars and the minivan,  Wes Harrell, Lifeguard director of strategic integration, said a local junk yard donated to the event. They were setup as though the car in the middle t-boned the minivan while another car struck the first in the rear. A mannequin represented a fatally wounded driver of the minivan, ejected from the vehicle. Two EMS personnel played the victims complete with fake blood and open wounds. According to Lifeguard EMS Captain Luke Sims, Avalon Fire Rescue, Pace Fire Rescue District, and Bagdad Volunteer Fire Department took part in Thursday's demonstration.
Leadership's Class 29 watched as ambulances and a fire truck arrived at Lifeguard's headquarters on Avalon Blvd, where they staged the accident, and EMS personnel quickly got to work assessing the situation, sending the rear victim off by ambulance. The middle car's driver needed to be cut out of her car. Firefighters cut the entire roof off and carefully lifted her out. A Lifeguard helicopter carried her away, returning again for the post simulation question and answer.
Leadership, now in year 29 of the program, was designed to develop participants for leadership roles in the local community. Thursday was the last day for Leadership students before graduation. It was also "Health Day," where students learned various aspects of the medical industry. Lifeguard Marketing Specialist Leslie Coleman said, "While it's a small group (observing the simulation), it gives leaders a better sense of what public safety is doing."
Leadership member, Gerald Gillis, said he was impressed with emergency personnel's efficiency, getting the victims the help they needed. "It could be my child. It could be your child," he said.
This article originally appeared on Santa Rosa Press Gazette: EMS personnel demonstrate lifesaving techniques