Employers, Job seekers turnout for Summer Job Fair (PHOTOS, VIDEO)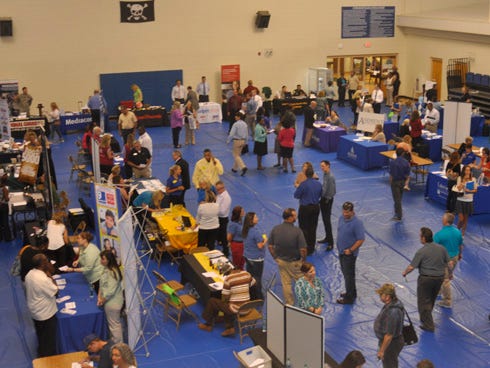 Both the number of employers and job seekers continued to grow for the annual summer job fair presented by the CareerSource Escarosa and Pensacola State College.
Click Here: To see more photos from this year's CareerSource Escarosa Summer Job Fair
"The numbers have increased drastically over the years, we have seen at least a 10 percent increase for the fall career fair in the number of employers," said Morgan Cole, an outreach representative for CareerSource. "There is a demand on both sides."
Nearly 50 area and national employers were on hand at Wednesday's job fair, which took place at the Milton Campus of PSC.  The employers needing to fill vacant positions varied from government positions to area businesses and distribution facilities.
On average, the annual summer job fair will attract between 500 and 1000 attendees seeking employment, Cole said.  
Among the many employers looking to hire is the Federal Bureau of Prisons, according to representative Lt. DeVeroe Lawrence.
"We are offering all kind of skill sets in the Federal Bureau of Prisons from secretaries to lawyers, doctors…you name it, inside a federal prison," Lawrence said. "This is nationwide recruitment that we are doing, anywhere from Florida to California."     
 Lawrence said the BOP booth received several inquiries from attendees, despite learning about the overall type of atmosphere they would be working in.
"They hear that word 'prison' they don't think about some of the other benefits we have," he said.
Lawrence said the profession can offer lucrative pay, retirement and traveling options.
 Whether seeking employment opportunities, alternative career choices or gaining experience in the job search process, the event featured a mixture of experienced and inexperienced job seekers.
PSC Job Developer Ashley Anderson believes the growing numbers of attendance shows signs of an improving economy.
"I am seeing a lot of employed people coming in on their lunch break or taking time off to come and meet the employers," Anderson said. "Before we had a lot of unemployed people who were just trying to get a job, now that is kind of changing around."
Anderson also said the quality of jobs offered at the events has also improved. Previously such  in events, the participating employers would only offer part time position, now employers are offering full time positions with better benefits.
Dr. Julia Britt recently joined PSC as their new director of career and technical education student resources and has already liked what she has seen from the CareerSource Escarosa partnership thus far.
"I'm very impressed everyone is very professional and CareerSource is doing a bang-up job," she said.  
Milton resident Silvia Schwalbach said she liked what the career fair had to offer.
"There is a variety to choose from depending on what your expertise is, I think there is a good chance of at least connecting with some people here," she said. "You at least have a chance to get your name out and drop off a resume."
Schwalbach attended the event hoping to find an administrative support position only after recently being unemployed. Schwalbach said she received some positive feedback from the several employers she spoke with.
"I think it was semi-positive," she said. "(I'm) keeping my fingers crossed, that one of them will at least contact me for chance of an interview." 
For those unable to attend the job fair event, Cole said job seekers still have the opportunity to apply online.
"We really recommend that they register on employflorida.com, that is where they are going to find every kind of position from entry level to professional level. If you are really serious about getting a job that specific system allows you to indicate your specific skills set and employers can actually search for you on there."
 The nonprofit organization, which supports the workforce needs of both Escambia and Santa Rosa County, CareerSource Escarosa has four annual job fairs within the counties including the 'Hiring our Heroes' event aiming to find proper job placement for military members in need.
This article originally appeared on Santa Rosa Press Gazette: Employers, Job seekers turnout for Summer Job Fair (PHOTOS, VIDEO)