EMERALD COAST ROLLER DERBY HOSTS MOBILE DERBY DARLINGS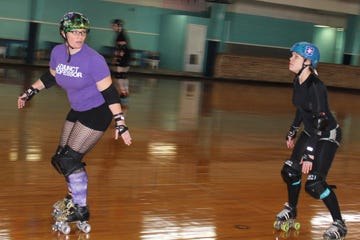 Saturday, April 18 Milton's Emerald Coast Roller Derby will host the Mobile Derby Darlings at Skateland located at 6056 Stewart Street in Milton. Tickets are $10 in advance or sold at the door for $12. Children 12 and under are granted free admission. Doors open at 6:30 p.m. and the game starts at 7 p.m.
EmeraldCoast Roller Derby will be donating 10 percent of their proceeds to Multiple Sclerosis.  Fans will be given a free raffle ticket for any additional donations to Multiple Sclerosis for a chance to win a gift basket.
EmeraldCoast Roller Derby is hosting a carwash on May 2 at Ollie's Neighborhood Grill in Milton.  Donations will be accepted.  For more information email emeraldcoastrollerderby@yahoo.com.
This article originally appeared on Santa Rosa Press Gazette: EMERALD COAST ROLLER DERBY HOSTS MOBILE DERBY DARLINGS