Dr. Karen Barber speaks at Kiwanis on Bridges Out of Poverty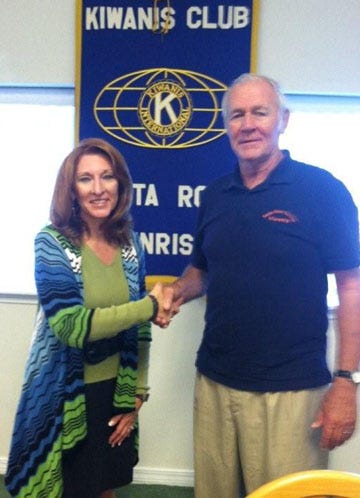 President of Santa Rosa Sunrise Kiwanis, Jack Culberson, is shown greeting Bridges out of Poverty spokesperson Dr. Karen Barber. 
Bridges out of Poverty was started a little over a year ago, in July of 2012, as a National Program to coordinate sectors of our community to work together as one group so as to not duplicate effort and to combine some efforts to make the jobs easier. 
The poverty level was explained to be 23,550. a year in income, with the poverty level of the three local counties almost the same at 27 percent.  
Bridges helps to identify kids and families at risk, and explains what benefits are open to them, and to provide those benefits. 
There is follow through with all the families, to help them succeed in attaining self sufficiency. 
Santa Rosa Sunrise Kiwanis welcomes all to their Wednesday 7 a.m. meeting at Tanglewood Golf Course where breakfast is served.  
This article originally appeared on Santa Rosa Press Gazette: Dr. Karen Barber speaks at Kiwanis on Bridges Out of Poverty