Curves offers fitness for women in stress-free environment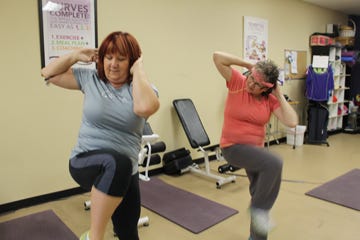 Jessie Drossos, personal trainer at the Curves in the Heritage Shopping Center in Pace, said the machines and workouts in her facility were designed specifically for women. Three elements of Curves, Drossos stressed, were the community atmosphere, personalized service, and the holistic approach to good health. "Curves is for women who want to get strong and stay healthy," she said.
Curves operates as a circuit, Drossos said, and members come in for a 30-minute workout. In the middle of the gym, 12 machines are arranged in a circle with mats between them. Drossos said members can come in, start on any machine, and move from 30 seconds on a machine to 30 seconds on a mat and move through the cycle twice. A 4 to 5 minute stretch wraps the workout, she said. Some members, Drossos said, start off only going through the cycle once.
Where Curves sets itself apart from typical gyms, Drossos said, is in the attention a member receives from training staff.
"You're never here alone," she said. Curves sends welcome cards to new members. Drossos also said she'd call a member she hasn't seen lately and if there's no answer, she'll mail a postcard saying "you're missed."
Drossos, a certified coach, said during workouts she encourages everyone along the way and will take time to show proper technique.
The computer system employed in Curves, according to Drossos, is tailored to each individual. She said, when members first arrive, they receive a tag and get measured and weighed. The tags go into the exercise machines and through a system of lights show if the user is pushing hard enough and what specific areas may need more work. Drossos said the system is available online and members can view their history.
Nutrition is also part of the Curves regimen. Drossos said she meets with members on a personalized meal plan. She also added Curves just bought the Jenny Craig nutrition program, bolstering Curves' wellness capabilities.
Drossos said adding the Jillian Michaels workout routine to the circuit has also brought in a younger demographic to the program. The Jillian Michaels workout, she said, has boot camp style routines with a secondary version for those who can't perform the main one. She said Curves also offers Zumba classes.
Drossos praised her members' success. She mentioned a 42-year-old woman who came in using a walker and eventually moved to using only her two feet after losing 40 pounds.
Barbara Pace, a Curves member, said her doctor told her she was pre-osteoporosis 5 years ago after a bone scan. After regularly working out at Curves, Pace said her bones no longer show osteoporosis and she no longer has to take a supplement for it.
This article originally appeared on Santa Rosa Press Gazette: Curves offers fitness for women in stress-free environment