County gardeners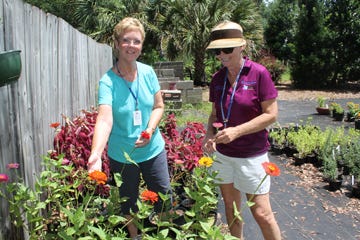 This weekend was the culmination of work at both the Milton Garden Club and the Santa Rosa County Extension Office. Both organizations spent the day selling beautiful flowers, ferns, and more. The Extension Office plants came from the office's own greenhouse and grounds tended by the Extension's Master Gardeners. The Milton Garden Club sale also invited some vendors to take part.
The Extension Office sold milkweed, basil, parsley, rosemary, russellia, coleus, bottlebrush, and zinnias among other plants.
Mary Derrick, the Extension's Residential Horticultural Agent said, "Most of the plants we had propagated for the plant sale back in April but they were really small and weren't big enough to sell." Proceeds from the sale go back into programs that the Master Gardeners do, she said. "They do some projects in schools and they maintain these gardens. Our biggest program is at Woodlawn School. It's an intermediate school in Gulf Breeze. We have a pretty big program down there called Garden Mosaics. They go into seventh grade classrooms four to six times in a school year and do horticulture programs with them. It's hands-on learning stuff, (and it) takes a bit of money. We have to buy supplies."
Derrick said another program of the Extension Office, the Panhandle Butterfly House, has a plant sale scheduled for this Saturday at the PBH, from 10 a.m. to 3 p.m. They will sell exclusively butterfly plants, "blooming plants for the adult butterflies who feed on nectar and host plants the caterpillars use for food," she said.
The Milton Garden Club sale capped off a week of events celebrating National Garden Club Week. Activities included lessons on table settings, wildlife presentation from the Wildlife Sanctuary of Northwest Florida, a presentation from the same Pensacola Butterfly House and more. The Garden Club had a few vendors at their sale such as artist Laura Keith King, Cheryl Little of She Sells Seashells, Dragon Express Catering, and the Pensacola Rose Society. The sale also marks the end of the season for the club, according to Vice President Jenny Weber, so gardeners can take all they learned since the fall and apply it. Look out for a big return of the MGC in August.
This article originally appeared on Santa Rosa Press Gazette: County gardeners