County discusses log truck zoning, Hawkins Park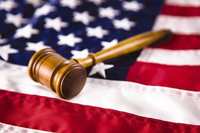 Monday's Santa Rosa County Board of County Commissioners meeting covered more than the upcoming courthouse and the Whiting Field conservation easement.
Number 12 on the Administrative Committee was discussion of log truck restrictions on certain county roadways. The discussion by the BOCC discussed whether rezoning or bolstering law enforcement presence would be better. Commissioner Bob Cole opened with the statistic noting 5 log truck accidents within the last 18 months. "I've asked Mr. Whitfield to look at what we can do. We have to be fair and non-biased but we have to do something before a citizen gets killed."
Public Works Director Avis Whitfield said "Historically trucks have been restricted by zones, but we have to be careful. We don't want to restrict trucks from one roadway to a more populated one. The cure could be worse than the disease."
Commissioner Jim Melvin said, "I'm leaning toward law enforcement." He said with trucks moving in and out of subdivisions, the law enforcement end is the way to go. Ticketing a few drivers would ideally scare others into safer driving. County Attorney Roy Andrews said the Florida Department of Transportation (FDOT) may provide some relief. "We could ask them to patrol abused areas," he said.
Before tabling the discussion for Thursday, County Administrator Hunter Walker said he asked Whitfield to sit in on the city of Milton's meeting with the FDOT on August 19.
Number 13 following was discussion of state owned Hawkins Park located about a mile north of Carpenter's Park on Munson Highway.
Arc of Santa Rosa director Ann Smith had said the Arc did not have the budget to keep up maintenance of the park. Over the last few years the park, designated for adults and children with disabilities, has deteriorated as nature began to envelop the park. Commissioner Bob Cole said, "It's a beautiful park with walkways, pavilions, and playground equipment." Recently, interest in the park has grown with groups like the Blue Knights of Florida Blackwater Chapter coming to clean up the park. Cole said, "Community service is becoming contagious after Navarre Park," a project already moving forward through volunteer service.
Cole said, "I'm working with Representative Doug Broxson's office to bring the park under county control. We want the park back where it needs to be for citizens who need this type of facility." Until Broxson responds, Cole said, the matter would be tabled.
This article originally appeared on Santa Rosa Press Gazette: County discusses log truck zoning, Hawkins Park