Commissioner Melvin seeks last term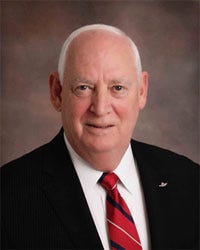 Santa Rosa County Commissioner Jim Melvin, retired Air Force pilot and certified public accountant, with an Advanced County Commissioner designation from the Florida Association of Counties said, Tuesday, he would not run for another term if he wins this coming election. Melvin said, "I'm not a professional politician, just a public servant."
Melvin said before he was commission chairman, he lobbied against add-ons to the county agenda unless they were routine. He said he didn't want the public finding out at the last minute of some new item.
Melvin said, during his tenure as commissioner so far, he's followed through on two commitments, reworking TEAM Santa Rosa to remove its pay-for-play stigma, and changing the way the Tourist Development Council did business advertising, now, to the entire country.
More investments, Melvin said he's bringing to the county, in the form of a $35 million apartment complex on Highway 98 by Greg and Betty Fountain, and a $30 million, 150-room hotel by Marilyn Hess.
Melvin said, "I'm looking forward to serving if elected. I was raised to avoid the appearance of impropriety." Melvin spoke of the leadership positions he's held as commissioner and in the Air Force and said, "You cannot teach judgment." Melvin said serving District 2 may present some differences to the beach-oriented District 4, but he said, "I will continue to hammer for open and honest government."
This article originally appeared on Santa Rosa Press Gazette: Commissioner Melvin seeks last term