Coldwater Creek offers farm tour and workshop (PHOTOS)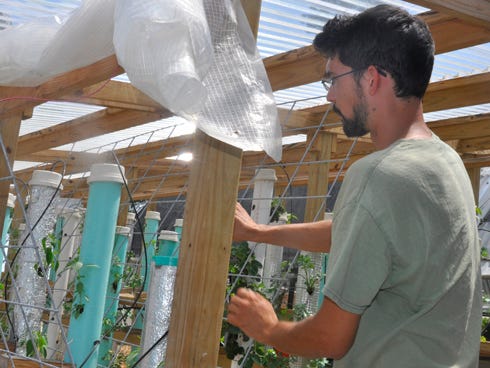 With their agritourism retreat location near completion, the staff of Coldwater Gardens wants to show the community alternative cultivation techniques with a farm tour and workshop scheduled for Thursday.
Attendees will be able to tour Coldwater's garden and learn about different alternatives to gardening other than simply using soil. Examples include using crop cultivation techniques like aquaponics, hydroponics, vermiculture, soil gardening and beneficial sensory gardening.
Click here: To view a photo gallery of unique gardening sites at Coldwater Gardens
"These are different growing techniques that people could do on a small or large scale," said Nick Phoenix, a manager at Coldwater. "(We want to show) the up sides and down sides and answer any questions people want to ask."
One of these unique systems, aquaponics, employs the waste products of koi fish to provide the  nutrients needed to grow produce.
Phoenix said farming alternatives like aquaponics and hydrophonics, or growing vegetation via nutrients and water without soil, are becoming more common and are not as daunting as one would expect.
"It's becoming more popular as the technology gets better," Phoenix said. "It's a pretty simple idea, but just some people get intimidated by the thought of setting something up like that, but it's quite simple once you get the ball rolling."
 During Thursday's tour, attendees can also learn how to produce their own shiitake mushrooms using a step-by-step process.
The event will also have input from agricultural specialists like Blake Thaxton from Santa Rosa County IFAS Extension Office and Trent Mathews from the Natural Resources Conversation Service, who will be doing a presentation on how farmers can apply for high tunnel through a grant. The event will also feature Chef Lindy Howell of Pensacola, who will show attendees cooking alternatives using  locally grown produce. She will be preparing the garden fresh lunch at the event.
 Coldwater's produce is sold locally at the Palafox Market in Pensacola and the Santa Rosa Farmers Market. Phoenix said he is excited to show attendees just what Coldwater has to offer.
 In addition to the alternative cultivation techniques and the produce itself, the tour will also show what the retreat location has to offer from cottages to "glamping" tents and primitive camping. Coldwater also offers a full service event center, which can be booked for weddings, business retreats and special occasions.
WANT TO GO?
WHAT: Coldwater Gardens Farm Tour and Workshop
WHEN: From 10 a.m. to 3 p.m. on Thursday.  Gate opens at 8:30 a.m. 
WHERE: Coldwater Gardens, located at 7009 Creekstone Rd. in Milton
COST: $10 admission
INFO: For more information on the event or Coldwater Gardens, visit their website at coldwatergardens.com or send an email to info@coldwatergardens.com.
This article originally appeared on Santa Rosa Press Gazette: Coldwater Creek offers farm tour and workshop (PHOTOS)