Clear Creek Farm methods offer variety, sustainability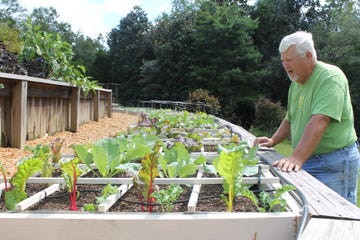 Ray Davis, a semi-retired insurance and financial service professional, and his wife Wanda, a retired English professor, went into their farming venture at Clear Creek Farm without any background in farming. Through their research and following the techniques of Mel Bartholomew, author and founder of Square Foot Gardening Foundation, the Davis family turned their 30 acres of hilly, muddy land into a mostly self-sustaining, mostly organic, easy to maintain farm, compared to traditional farms. This was the reason, Ray Davis said, his farm was named Innovative Farm of 2014 by Santa Rosa County.
This year's Beaches to Woodlands Tour features the Clear Creek Farm with workshops on container gardening October 18 and hot composting October 25, both from 9 a.m. to 12 p.m.
On a tour of his farm by way of utility vehicle, Davis pointed out features making it so innovative. The type of solar panels he's installed provide so much energy, he said, the excess he sells back to Gulf Power. Davis said he could almost work off the grid.
The jewels of Clear Creek Farm's food growth are the square foot garden boxes and the floating hydroponic gardens. The hydroponic gardens consist of sections of 2-inch-deep foam with circles cut in them to hold seedlings in net pots. These sit above basins of nutrient rich water. Davis said he has pipes running under the garden fed by natural springs. "[They] bring geothermal energy at 68 to 72 degrees year round. I can extend the season in the summer and don't use fossil fuels to heat in the winter," he said.
"The square gardens," he said, "let a person grow lots of food in a small area." Davis said he starts with a 4-foot by 4-foot box, fills it with compost, then covers with a grid marking each of the 16 square foot sections allowing 16 varieties of plants. He said it was an easier method for his wife and he to weed and maintain since the boxes can sit off the ground. Davis said he also makes compost at the farm from manure, plant parts, wheat straw, and more. He said it also contains vermiculite to keep it loose and airy, making weeding easy.
Visit www.clearcreekfarm.net for more information. Reservations are required and admission is 10 dollars for adults, 5 dollars for children, and there is a 10 percent military discount for active military and groups of 10 or more. The farm is open to tour every day in October.
This article originally appeared on Santa Rosa Press Gazette: Clear Creek Farm methods offer variety, sustainability