Clark's Lock now located at new Bell Lane address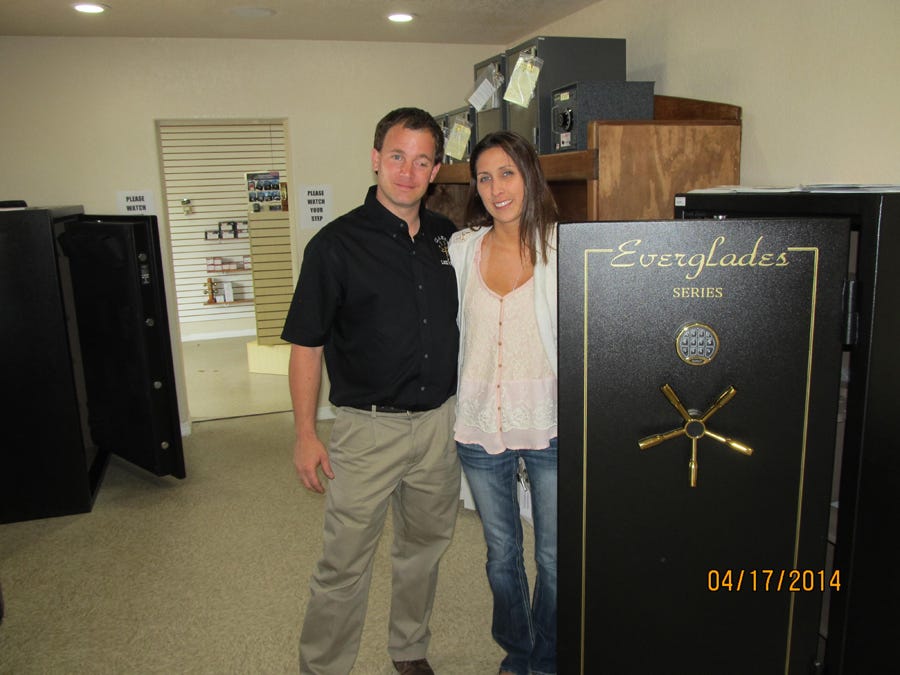 Clark's Lock & Safe, Santa Rosa's premier lock, key, and safe sales and service center, has announced the relocation of its offices, showrooms, and warehouses to 4575 Bell Lane in the Pace-Pea Ridge area. Owner Saki Filios who acquired the business two years ago says the move is significant for a number of reasons."It not only gives us more physical room to work and a larger showroom space, it's furnishing us the opportunity to add to the line of sales and services that is responsible for the good reputation we have in the community,"  Filios said. "With this move to a more convenient location and substantially more space, we are branching out in the safety and security fields, adding new lines of products and services."
Specific examples of products being considered are items like stun guns and pepper spray, Filios said. While the safety features for individuals and businesses in the past have basically been the security provided by locks and keys and safes, times are changing and more sophisticated security measures are being introduced along with the related sales and services that have to be met, he said.
Another continuing feature that adds substantially to the dimension of services offered by Clark's Lock and Safe in Santa Rosa is its relationship to Pensacola Lock and Safe in Escambia County that is also owned by Filios. The Pensacola store is located at 2403 Langley Avenue, and with Clark's Lock & Safe in Pace-Pea Ridge provides almost seamless coverage to most any lock and key circumstance in the two-county area. Whatever lock, key, or safe related sales or service are needed, Clark's Lock & Safe and Pensacola Lock & Safe can guarantee result that will be satisfactory. Whatever commercial, residential, or institutional lock and key situations occur, the emergency can be solved by trained professionals from Clark's Lock & Safe or Pensacola Lock & Safe with individualized attention 24/7 that has earned each the good reputation that each enjoys.
It often seems emergencies choose the most difficult times to happen. Keys sometime break off, or get locked up in homes and cars, and for dome people they have a way of getting lost without explanation. And locks themselves sometime malfunction, damage by intentional force—such as from a burglar—or just mechanically fail from lack of simple maintenance.
But no matter the complication you encounter in this security conscious environment, if its lock and key connected, you can count on your friendly neighbor, Clark's Lock & Safe, to come to your rescue. And it's reassuring to know that Clark's Lock and Safe is a member of the Associated Locksmiths of America, the professional trade organization,  and is one of the only companies in the Panhandle that actually has a Certified Locksmith on staff at all times.
An almost endless on-line selection of simple but important items is available from handle sets to deadbolts, and from drawer handles to mailbox locks can be located on the stores' Web-sites. For Pensacola its www.Pensacolalocks.com and for Clark's Lock & Safe the website is www.Clarkslocks.com They are both interesting, complete, and easy to navigate.
With all the publicity about guns, and safety and security these days, you might be concerned more than ever about the disposition and storage of your guns and firearms. Not to worry because both Lock & Safe stores have solutions. All you have to do to get attention is to express interest. And with a hundred or so years of experience among them, the professionals at the two Lock & Safe stores know their business and can lead you to a successful conclusion to your emergency or just your casual interest.
Another item to consider when acquiring the services of a professional locksmith is its reputation among members and business of the community. "We have a long-standing commitment as members of the community to its cultural and civic issues," Filios said. "My wife's family goes a long way back in the county. And I have been here for more than a decade. We have four children in Santa Rosa County's Public School System, two of which will be attending Milton High next year."
Entrenchments like that are not casual issues, he said. "We think Santa Rosa County is a great place to raise a family, and Pensacola offers a lot of cultural diversity just across the bay," Filios said. "We're here for the long haul!"
Two of the most important telephone numbers you should have at your fingertips at all times are the numbers of Clark's and Pensacola Lock & Safe. The number for Clark's Lock & Safe is (850) 623-5685, and for Pensacola Lock & Safe it's (850) 4761164.
This article originally appeared on Santa Rosa Press Gazette: Clark's Lock now located at new Bell Lane address