Christ United Methodist Church's pumpkin patch arrives this weekend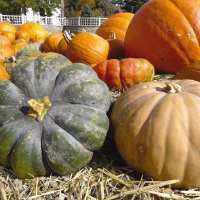 It's that time of year when we wear sweaters and our air has a nip of cold.   Its Harvest season and
Christ United Methodist Church is at it again for the 11th year. CUMC Pumpkin Patch ministry starts to swing on October 3rd and ends on the 31st. This whole enterprise starts in Arizona where a Native American group grows pumpkins for our patch. CUMC sells the pumpkins and pays the tribe for them at the end of the month.
They are delivered by an 18 wheeler to our church and the drivers volunteer their truck and travel to support this ministry.  The ROTC from Milton High School unloads the pumpkins and they receive ROTC credit for this.  Then our church members donate time and energy to run the patch from 11 a.m. until 7 p.m. the whole month.    Proceeds go to the church to support our internal ministries like VBS,  youth camp, church repairs, and missionaries.
We also have a children's program for the younger kids from area schools who come to the church for story time, crafts and hay rides.  They get pumpkins to decorate and we teach them about the squash and cubit family with a guided tour of the patch and explanations of different pumpkins and their origins. 
These beautiful pumpkins can be from 3 inches in diameter to over 60 inches in diameter.
We sell these by the diameter as we are instructed to do by our supplier.  We have pumpkins with prices to compare.  Our pumpkins like people are all shapes and sizes and we tend to have pumpkins when the other sources run out especially in the late October.
We have many varieties but the popular orange carving/eating pumpkin is the most abundant.
The warty pumpkin is orange but has warts on its skin these don't carve well but with an extra thick shell can last all season and are good for decorating or painting.  Our gourds are of many varieties and are great for decoration.  WE have some very large pumpkins that would look fantastic in a yard or store display.   With proper care pumpkins and gourds can last the season.  Our baby pumpkins are a hit with the little ones and can act as a teething agent.
Pumpkins also called winter squash contains large amounts of carotene, Vitamin C, B1 folic acid, potassium and dietary fiber. The seeds also contain many vitamins and are easy to remove and dry for consumption.   Even canines benefit from pumpkin in their diet. 
We have a "Trunk or Treat" usually the weekend before Halloween.  This is followed by a soup dinner.
CUMC provides a hay stack so families can have their photos taken in our patch.  Costumes are welcome.
This article originally appeared on Santa Rosa Press Gazette: Christ United Methodist Church's pumpkin patch arrives this weekend