Car dealership accepting donations for 'Toys for Tots'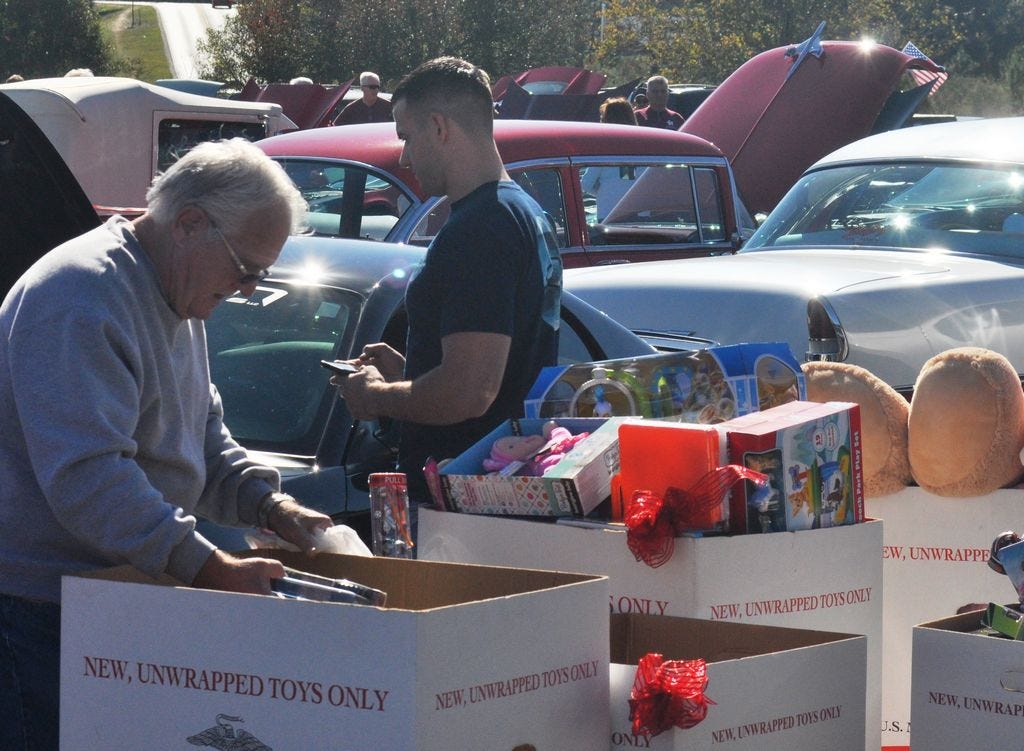 Following a successful toy drive Saturday, which filled eight large 'Toys For Tots' boxes including  $750 for the well-known fundraising drive, a local Milton car dealership continues to take donations for the U.S. Marine Corps foundation.
Throughout the month of December, Lou Sobh's Milton Chevrolet, located at 5925 Highway 90 in Milton, is accepting donations inside the main show room.
On Saturday, the annual donation drive received a big boost during the Seventh annual Chili Cook-off / Car & Bike Show at the Ollies Neighborhood Grill parking lot in Milton. Kevin Hobbs, the event organizer, said the event continues to grow.
"It gets bigger and bigger every year,' he said. "This was the biggest so far."
Each participant in the car show had to bring at least one toy donation in order to participate in the show. Hobbs estimated there was around 100 participants at the event.
In addition to the car show, the event also benefited 'Tots' through a Chili Cook-Off competition, which took place inside Ollie's. This year's winner is Steve Chapman.
During normal business hours, the dealership is also collecting toy donations to benefit several nonprofit agencies of the United Way of Santa Rosa including the Santa Rosa Kids' House, Favor House, ARC Santa Rosa and Big Brothers, Big Sisters.
These organizations aim to provide Christmas for children and families in need.
In addition to collecting on behalf of 'Toys For Tots' campaign, the event also memorialized Kenneth Mitch Michener, the former owner of Milton Quality Bakery and local car enthusiast. Michener passed away last year at the age of 68.
In memory of Michener, the event accepted donations, including a drawing for an iPad mini for the Bethany Christian Services of the GulfCoast. Overall, Hobbs said the event collected $567 dollars towards the Christian-based global nonprofit organization which provides services in adoption, foster care and pregnancy counseling.
This article originally appeared on Santa Rosa Press Gazette: Car dealership accepting donations for 'Toys for Tots'