Butterflies reawaken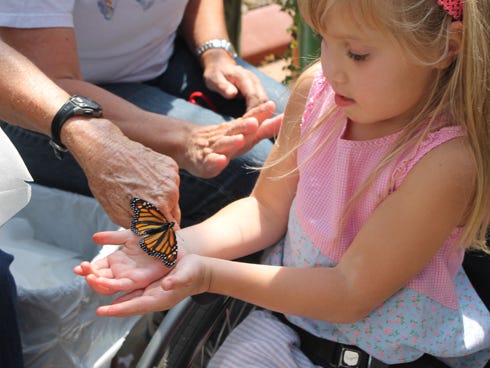 Visit the home of some of the most beautiful and graceful creatures at the Panhandle Butterfly House during its May 2 grand opening. The enclosure is open to the public from 10 a.m. to 3 p.m. Thursday through Saturday as of May 2 and located in Mavarre Park on Highway 98 at the foot of the Navarre Beach Bridge.
Special festivities for the grand opening include Jimmy Chandler, classical guitarist, the "Monarch Market" with butterfly items for sale, meals from Holley-Navarre Elks Lodge #2787, and butterfly plants for sale from the Santa Rosa County Master Gardeners, who will also be there to answer horticultural questions.
The Panhandle Butterfly House depends on the generosity of its visitors and grants to sustain this incredible educational exhibit. There is no admission, but donations are appreciated.
For those who wish to take their love of these beautiful, delicate creatures a step further, they can become a Panhandle Butterfly House docent. Share the wonder of a butterfly emerging from its chrysalis. Educate visitors on our native butterfly species and how they contribute to our local agriculture, gardens and beauty. Tend to the caterpillars. Join the docent team or tour guide volunteers at the Panhandle Butterfly House by attending an upcoming training classes. Class size is limited to ensure individual attention and training, so advance registration is required.
The first docent training class is Saturday, May 9 from 10 a.m. until 3 p.m. at the Navarre Library located at 8484 James M. Harvell Rd.  To register for the upcoming training class or request further information, email docents@panhandlebutterflyhouse.org
This article originally appeared on Santa Rosa Press Gazette: Butterflies reawaken