Beer company opening by Christmas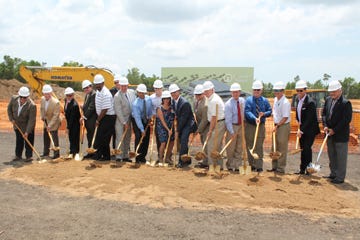 Construction on a new $18 million beverage distribution center is expected to be completed before Christmas of this year.
Goldring Gulf Distributing held a groundbreaking ceremony Monday to celebrate the start of construction on their new 191,450 square foot beverage distribution center, which will be located at the Santa Rosa Industrial Park. The new distribution center, which will consolidate Goldring's Fort Walton Beach and Pensacola centers, is expected to bring 220 new jobs to Santa Rosa County and service more than 2,200 retail accounts.
"It's been a long courtship to finally arrive at breaking ground and getting on with it," said Elliot Maisel, chairman and CEO of Gulf Distributing Holdings, Goldring's parent company. "It's going to be a great building. It will provide us with the opportunity to better serve our accounts and that's our job."
About 75 people work at the Fort Walton Beach distribution center and slightly more work at Pensacola. Those locations will close when the Milton center opens.
Maisel said the Milton location will likely open with about 160 to 180 employees, but it will grow to more than 200 quickly.
Goldring Gulf Distributing is a beverage distributor representing more than 75 different suppliers. Their clients include MillerCoors, Heineken, Crown Imports, SweetWater, Abita, New Belgium Brewing, Red Bull North America, Dr. Pepper Snapple Group and others.
John Gavin, MillerCoors' general manager for Florida, said the groundbreaking represented a big day for Goldring's clients, as the new warehouse will make future deliveries more efficient.
"Efficiencies of building a new warehouse and the consolidation of the others will bring better service into your stores," Gavin said.
Even though Goldring will close its Pensacola branch early next year, Pensacola Mayor Ashton Hayward spoke at the groundbreaking, describing the new distribution center as a win for the region and not a loss for his city.
"All the impact they've had in Pensacola will now be in the city of Milton and Santa Rosa County," Hayward said. "We all win together. All the people who work here at Goldring in Santa Rosa will spend money in Pensacola and Escambia County. So this is a win together.
"When we think like that, we're all going to succeed," he added. "We either win together or we lose together."
This article originally appeared on Santa Rosa Press Gazette: Beer company opening by Christmas