Beatles Tribute Band this Friday at Riverwalk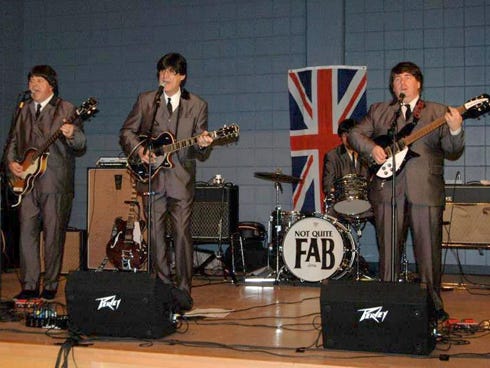 Not Quite Fab will be at the Riverwalk this Friday evening from 6 to 8 as part of the Bands on the Blackwater celebration. The band promises a total Beatle's experience. Bring your lawn chairs and memories! The Beatles are comin' to town.
From 1962-1970, Beatlemania to the summer of love, the songs of the Beatles changed the face of music. From the Beatles hair styles and clothing to their lifestyles and religion, they changed the world. Peace and love is the Beatles mantra. I'm Dickie Williams (Paul McCartney) of "Not Quite Fab" NW Florida's only Beatles Tribute Band. We would like to be on your list of entertainment. We perform Beatles shows between Panama City, Florida and Biloxi, Miss. Since 2001 we have been playing about 35 shows a year, most recently at Pensacola Beach "Bands on the Beach" with as many as 2,000 people in attendance. (Reference Kim Duel at SRIA 932-2257). Navarre Beach and "FunFest" Thurday Night Cocerts (Reference Sandi Kemp Navarre Chamber President Elect 939-8040). Market Shops Sandestin "Concert on the Green (Reference Ria Pruiett Events Manager 850-267-6196) and Seville Quarter "Flower Power Weekend" and Fiesta of Five Flags (Reference Scott, Buck or Jack Mitchell 434-6211.) We play Festivals, Reunions, Conventions, Resorts, Mardi Gras and Fiesta Balls, Fund Raisers and other Private and Public Events. The show is two and a half hours of Beatles music performed live. (No canned music) With Beatles wigs, A hard days night grey suits, Liverpool accents and the same model guitars and amps the Beatles used. ( Hofner, Gretsch, Rickenbacker and Vox). We have a sound man and sometimes Ed Sullivan to introduce the band. The show is two part, early and later Beatles music with a costume change. The show is visual as well musical and provides people the opportunity to experience what a Beatles show may have been like. (Without all the screaming teenagers.) "Not Quite Fab" is Dickie Williams (Gulf Breeze) as Paul McCartney, Glen Vignolo (Pensacola) as John Lennon, Jim DeStafney (Pensacola) as George Harrison, and Jeff Fitzpatrick (Niceville) as Ringo Starr. This is a "professional show" not a top 40 nightclub gig. Every age group from children to retirees loves the Beatles music and sings along and dances to nearly every song. Perfect entertainment for any event or age group. The real show is the full experience, sounds like- looks like- feels like the Beatles.
This article originally appeared on Santa Rosa Press Gazette: Beatles Tribute Band this Friday at Riverwalk