Beaches to Woodlands celebrates final week of tour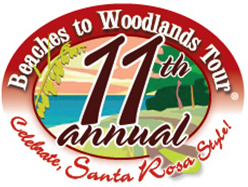 The final full week of activities for the 11th Annual Beaches to Woodlands Tour of Santa Rosa County features a variety of Halloween-themed events, more farm fun, sea life, a kiln opening and more.
"Our fourth week is as busy as any week we've had on this year's tour," said coordinator Karen Harrell. "The end of the month brings some fun Halloween events that are always popular while our farm and sea life events continue. There are plenty of ways to enjoy this great weather we've been blessed with this month."
There are three new events on the final leg of the tour including: Oct. 24-25, the Holloween Murder Mystery Dinner Show presented by The Dream Players Theatre at the Historic Bagdad Museum; Oct. 24, the UF/IFAS West Florida Research & Education Center Fall Harvest Dinner and Oct. 25, the 5k Dead Pirate Glow Run at Juanas at Navarre Beach.
Also, Oct. 24-25 is the always-popular Ghost Walk in Downtown Milton, a major fundraiser for the Imogene Theatre and the award-winning Navarre Beach Science Station will host its annual Science Spooktacular by the Sea.  On Oct. 25, artists will be on hand for the annual Bagdad Plein Air Paint Out in the Village of Bagdad.  Oct. 24, 25 and 26 the Haunted Hayrides and Christmas Tree tagging continue at Whispering Pines Christmas Tree Farm. On Oct. 25 there is a second Sea Turtle Extravaganza at Navarre Beach and on Oct. 25-26 the econd weekend for the Boo at the Zoo in Gulf Breeze.
Also, Oct. 25 Holley Hill Pottery and Kiln near Navarre will have a fourth open house and kiln opening with "All about Annie's Clay Creations.­."  The weekly lecture series continues that day at Arcadia Mill in Milton. Visitors are encouraged to learn about the Village of Bagdad's rich history and to view some of the items donated by two-time Masters Champion Bubba Watson who grew in the small former mill town at the Bagdad Museum.
Farming events continue all month-long including the #bubbamaze at Sweet Seasons Farm (maze is designed in two-time Masters Champion Bubba Watson's likeness,) Aquaponics Tours at Clear Creek Farm and a maze, peanuts and hayrides at Holland Farms. Also, fall season zipline tours continue at nearby Adventure Unlimited and Sundays there is free saltwater fishing at Avalon Landing RV Park.
Event details are listed below and available at www.thebeachestowoodlandstour.com.
Events -Nov. 2
Sept. 27-Nov. 2 Holland FarmsPumpkin Patch and Maze – Homer Holland Rd., Milton, Fla Information: Mon-Sat 8am-6pm Sunday 10am-6pm (ONLY DURING PUMPKIN PATCH SEASON) Prices- $10 wristband per person for pumpkin patch (includes one pumpkin), hayride, and all other activities. $6 for single pumpkin. Maze only- $6 per person.
Details: BJ Holland, (850) 675-6876 or www.hollandfarmsonline.com.
Sept. 27 -Nov. 2 Sweet Season Farms Corn Maze 2260 Horn Rd., Milton, Fla.. Sat. – 9 a.m. to 5 p.m. and Sun. 1 to 5 p.m. and Fridays 6 p.m. to 10 p.m. in October with the exception of Oct. 31 for Halloween. This agritourism event features two-time Masters champion and Milton High School graduate Bubba Watson as the honoree in the 2014 maze design. The event gives families the opportunity to enjoy a day on a working Santa Rosa County Farm. Visitors can spend time navigating their way through an 8-acre corn maze, playing on 20 types of fun farm themed equipment including a playground, hayrides, cow train rides, corn popper jumping pillow and more. Details: Trent or Sharon Mathews (850) 675-3573 or www.sweetseasonfarms.com.  
Oct. 24 UF/IFAS West Florida Research & Education Center Fall Harvest Dinner, 4253 Experiment Road, Hwy 182, Jay, FL 32565, 6 p.m. – 9 p.m. Event includes entertainment by comedian Jody Fuller and the band "ATouch of Blue." Tickets are $50 in advance, $60 at the door. There will be a silent auction. The proceeds from this event will be used to convert an existing equipment building at the Jay Research Facility into a conference facility for faculty, students, and the public. Details: 850-393-7334 or http://wfrec.ifas.ufl.edu/
Oct, 24, 25, 26, 31 & Nov. 1 Haunted Hay Rides & Christmas Tree Tagging at Whispering Pines Christmas Tree Farms – 1603 Penton,Hwy. 89 North Penton Road, Allentown Community, Milton, Fl. Gates open at 6:30 p.m and rides start at dark. Details: Mike Kelly 850-304-1559. Details: 850-449-4316 or www.floridachristmastree.com. Oct. 24-25 Science Spookatular by the Sea presented by the Navarre Beach Marine Science Station. Free. From creeps of the deep, an endangered species cemetery, to science that glows in the dark, amazing sea creatures await you. Explore sea-themed stations for tricky-treats and experience science by some of yoFur favorite teachers. The family friendly event features glow in the dark science demonstrations, spine chilling dissections, haunted beach walk, hands-on activities, and crafts for children. Event is from 5 p.m. -9 p.m. Admission is $5 per person, children under 2 are free. Pre-register at www.navarresciencestation.org. Details: (850) 623-3868. 850-449- 4295. Oct. 24-25 Ghost Walk, Imogene Theatre, 6866 Caroline St; Milton, Fl. Walks start at 6 p.m. each day.  Not your typical "ghost" walk, this event features historical characters in period costume and the walk will feature up to 10 stops. Proceeds are used to help with the maintenance costs of the Imogene Theatre. Cost is $10 or free for under age five. Details: http://santarosahistoricalsociety.com
Oct. 24-25 Holloween Murder Mystery Dinner Show, 5614 Church St. Bagdad, Fl., 6 p.m.  The Dream Players Theatre presents Halloween Mystery Dinner Show at the 1880 Historic Bagdad Museum. Tickets are $45 which includes dinner and the show.  Details: Michael Fletcher 850-255-8892 or michael@villagehomesandland.com
Oct. 25 Bagdad Plein Air Paint Out, Village of Bagdad. Dragonfly Gallery, 6815 Caroline Street, Milton, Fl. 32570. Artists meet at 8 a.m. to register and then paint. Artists meet at gallery in late morning to frame and hang work. Work is judged and prizes are awarded. Morning breakfast snacks and lunch are provided to participants. Reception and prizes are awarded at 1:30 p.m. at the gallery. The public is invited to observe artists at work and attend the reception. Paintings may be purchased at the reception. Cost to participate: $35. Details: 850-981-1000 or 850-910-0561 or thedragonflygallery.org or santarosaarts.com.
Oct. 25 5K Dead Pirate Glow Run/Walk, 6 p.m. – 9 p.m. Public parking lot by Juana's Pagodas, Navarre Beach Causeway, Navarre Beach.  Prizes for Best Pirate costumes and Glow runner costumes. Event features a DJ and music and after party. Register at www.active.com. Cost: $25. Details: Tina Hernandez at 850-218-8487 or kreweofkaribbean.org  
Oct. 25 Holley Hill Pottery and Kiln "All about Annie's Clay Creations": Select from a vast menagerie created by Brenda Stokes' sister, Annie Van Deventer – including miniature mermaids, bears, horses, flying pigs, frogs, owls, cats, chickens and roosters. Van Deventer will take guests on golf-cart tours of the 32-foot long Anagama kiln, which produces about 1,000 pots in a single firing, and the historical Ralph Howard Phillips kiln. Details: Holley Hill Pottery or the Gulf Coast Kiln Walk Society, call (850) 939-2744.
Oct. 25
Sea Turtle Extravaganza. 10 a.m. – 2 p.m.  Activities will be at the Navarre Beach Park Pavilion and clear-bottom kayaks will be available to visit the near-shore reefs.  8740 Gulf Blvd. Navarre, Fl. Details: 850-565-0279 or www.navarrebeachseaturtles.org
Oct. 25 Clear Creek Aquaponics Farming Tours Composting Clinic, 6065 Clear Creek Road, Milton, Fl.  9 a.m. – 1 p.m. Reservations required. Details: raywanda@aol.com or visit clearcreekfarm.net.
Oct. 25-26 Boo at the Zoo 2014 – Trick-or-Treat with all your favorite animals at the Gulf Breeze Zoo! The Zoo's very special Trick-or-Treat Trail invites children to don their costumes and enjoy the zoo decked out for the Halloween holiday in a safe and not-so-scary environment. The event features over 25 candy stations, special animal encounters, daily costume contests, 3 bounce houses, face painting and balloon artists. 10 a.m. to 4 p.m. Tickets are $12 for adults and children. Tickets are available through Oct. 26. Limited pre-sale tickets available. The zoo is located at 5701 Gulf Breeze Pkwy., Gulf Breeze, FL. For more information, (850) 932-2229 or visit www.GBZoo.com/zooboo
.
Oct. 26 Saltwater Fishing At Avalon Landing RV Resort, 1 p.m. – 4 p.m. 2444 Avalon Blvd., Milton, Fl. Locals and visitors enjoy complimentary saltwater fishing on Sundays in October. Wendy Behnke,  850-995-5898 or www. Avalonlandingrvpark.com
Oct. 1-31 Clear Creek Aquaponics Farming Tours, 6065 Clear Creek Road, Milton, Fl Reservations are required. Admission is $10 for adults and $5 for children, with 10 percent discount for active military and groups of 10 or more. The farm is open 9 a.m. to 3 p.m. seven days a week Oct. 1-31, except Thursday and Sunday mornings. Details: Email only, raywanda@aol.com or visit clearcreekfarm.net.
Events Staged All Month
Adventures Unlimited Fall Foliage Zipline Tours, Canoeing, Ropes Course, Camping and Kayaking – Fall is a great time to enjoy the many natural attractions at Adventures Unlimited located just north of Milton, Fla., in the Blackwater River State Forest. October is a great month to absorb the changing colors through a Fall Foliage Zipline Tour. Weekend stays at the resort's camping sites or wooded cabins are available along with the ropes challenge course, canoeing and kayaking majestic Coldwater Creek. Details: (850) 623-6197 or (800) 239-6864 or www.adventuresunlimited.com.
Arcadia Mill "Secrets of Santa Rosa Archeology & History in Your Own Backyard" Saturdays in October, 11 a.m. Arcadia Mill Archaeological Site, 5709 Mill Pond Lane, Milton, Fla. Arcadia Mill is Florida's largest antebellum industrial complex. The weekend lecture series events is presented by the University of West Florida, the Florida Public Archeology Network, West Florida Historic Preservation, Inc., and Arcadia Mill. Details: (850) 626-3084 or www.historicpensacola.org/arcadia.cfm.  
Birding Gulf Breeze Zoo – 5701 Gulf Breeze Pkwy., Gulf Breeze, Fla. Explore the Gulf Breeze Zoo's Walk-in Aviary and native bird observation area. Enrichment programs and meet-and-greet events scheduled throughout the month. Details: (850) 932-2229 or www.gulfbreezezoo.org.
Gulf Islands National Seashore, Naval Live Oaks Visitor Center – 1801 Gulf Breeze Parkway, Gulf Breeze, Fla. Ongoing programs all month long. Be sure to stop by and pick up a Beaches to Woodlands program and map. Details: (850) 934-2600 or www.nps.gov/guis
Santa Rosa County History Museum– 5234 Willing Street, Downtown Milton, Fla. Saturdays 10 a.m. – 2 p.m. Explore Santa Rosa County's rich history and the ongoing effort by area volunteers to preserve and protect area treasures including the Imogene Theater. Details: (850) 623-9866 or www.santarosahistoricalsociety.com
This article originally appeared on Santa Rosa Press Gazette: Beaches to Woodlands celebrates final week of tour