Back to School Bash happening on Sunday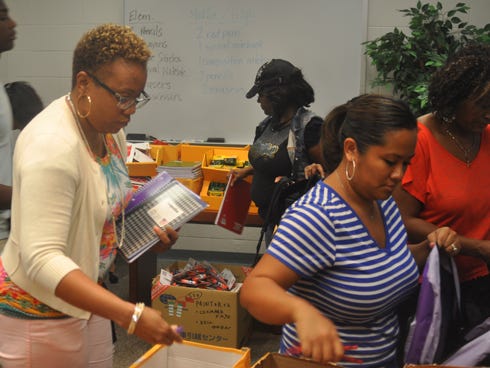 Several community organizations − including the Emerald Coast Ladies of Essence Inc., Men In Action Outreach, Inc. Pride of Milton Masonic Lodge #12, the Magnolia Education and Recreational Center Inc., along with several other community partners – are doing their part to prepare students of Santa Rosa County for the upcoming new school year with the annual 'Back to School Bash.'
Tiphanie Sapp, president of the Emerald Coast Ladies of Essence, said this will the first time the event will take place at the Guy Thompson Community Center on Sunday. Recently, the community event took place at the Bagdad Community Center.
 Sapp, who also serves as the assistant principal at Bagdad Elementary School, anticipates a large turnout at Sunday's event.
The Bash will include local vendors who will be passing out materials in order to further assist families and also feature a motivational speaker who will deliver a message to get children ready for the new school year.  
"It's kind of a back to school pep rally," she said.
In addition to providing local families with free food, games, activities and a raffle drawing, the event will also help the families get ready for the first day of school on August 17.  
Local barbers will be present to give boys haircuts and nail specialists will be present to decorate nails for girls, Sapp said.
The event will also benefit families through providing school supplies. Sapp said event organizers have collected more than 500 backpacks to be given away at the event.
On Thursday, the event organizers planned to purchase needed school supplies and organize the items for elementary, middle and high school students.
Sapp said the attendance for the annual Back to School Bash event has continued to grow.
"Every year, we do have more families overall," she said. "Sometimes, we have people who will pick up things for their neighbors."
Local organizations, including churches and businesses, have contributed towards the event either by donating items for the event's raffle or donating funds towards the purchase of school supplies, Sapp said.
"It's really getting to where we can do more and more to provide," she said. "The support is really coming in and we do appreciate that."
WANT TO GO?
WHAT:  Back to School Bash
WHEN: From 4 p.m. to 6 on Sunday, August 2
WHERE: Guy Thompson Community Center, located at 5629 Byrom Street in Milton
This article originally appeared on Santa Rosa Press Gazette: Back to School Bash happening on Sunday