Artfully yours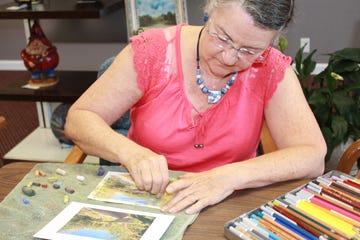 The Dragonfly Gallery, after moving from its tucked-away location in January to a spot on the main thoroughfare of Highway 90 in downtown Milton, is enjoying a glut of new membership and artwork. Elaine Woodward, an artist who taught a pastel class Thursday, said, "It's been exciting. At the old gallery, membership dwindled to less than 20." She said new artists arrived and some past artists returned so now 26 are in-house now with at least 2 on a waiting list. "It's good to get on the list. That's what we go by," she said.
One of Thursday's pastel students,  Rodie Zolecki said the Dragonfly has jewelry, pottery, oils, gourds, photography, water colors, pastels, acrylic works, glass, and tile pieces. Woodward said, "It's all fine art and some fine crafts."
Right now, Woodward said, a new members show is going on now. In the past, the Dragonfly had an ARC of Santa Rosa show, a high school senior show, middle school show, elementary school show, and a teacher's show. The next one, Zolecki said, would be a show featuring all of the gallery's male members.
Woodward said the not for profit Santa Rosa Arts & Culture Foundation supports the Dragonfly Gallery. Artists must take time to run the front desk, but Lang said the foundation pays the bills. Thursday, Del Scott, who creates in oils, water color, and pastels, worked the desk with Mitzi Dubois, a jewelry artist using beads and chainmail.
Woodward said the Dragonfly Gallery hosts classes every Thursday. Kids classes, she said, will start in September
This article originally appeared on Santa Rosa Press Gazette: Artfully yours