Anti-tobacco message still needed, students say (VIDEO)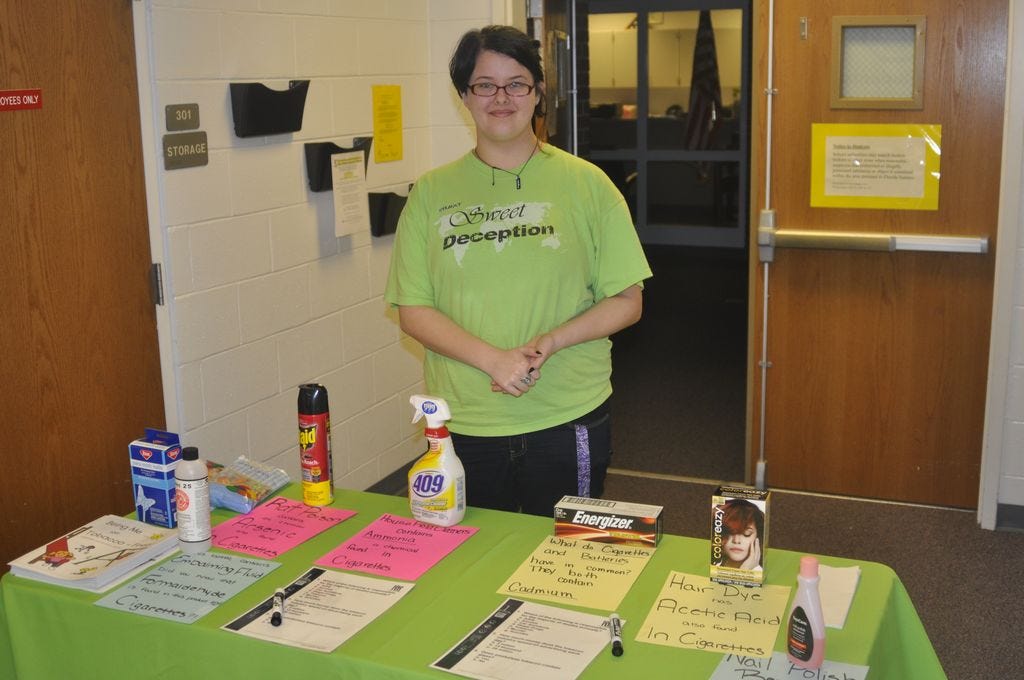 MILTON — With numerous anti-tobacco campaigns, a student-led organization in Santa Rosa County believes more people need to know that smoking tobacco can lead to cancer, diabetes and gum disease.
And that teenagers are targets.
"One out of four smokers start at an early age in the teenage years," said Pace High School student Bailey McKinnell, a member of Students Working Against Tobacco. "Tobacco companies are actively targeting us."
McKinnell, vice chair for the Santa Rosa County SWAT chapter, was one of several students on hand to spread awareness about tobacco's dangers during Saturday's 'Kick Butts' kick ball tournament at Avalon Middle School. The county-wide event was presented on behalf of Tobacco Free Kids of SRC.
WATCH: Video of the 'Kick Butt' Kick Ball tournament
The event's a fun way to spread a serious message, organizers said.
 "(Tobacco companies) are actively targeting them with candy-flavored tobacco, hip new electronic tobacco devices … commonly known as e-cigarettes," she said.
Gina Russo, SWAT coordinator and health educator with Tobacco Free Florida, said there are currently seven SWAT campaigns available at several middle and high schools within the school district.
"We go into the schools and find an adviser that is interested and then we start the program," Russo said. "We have a campaign pretty much every month, a big activity every school can participate in."
While participating in community events, like the upcoming Scratch Ankle Festival in downtown Milton, Russo said each SWAT team is active in spreading awareness on both the dangers of smoking and how to quit.
"Our smoking rates in Florida are the lowest that they have ever been, but the fight is not over," she said. "There is still a lot of work that needs to be done."
Like McKinnell, Russo said awareness is still needed due to the new products making their way to local store shelves.
While the Food and Drug Administration is studying e-cigarettes and their effects, Russo said there is not enough education on nicotine, a substance commonly affiliated with tobacco.
"It can be more addictive than cocaine, studies have found," she said.
Andreas Bergmann, a member of Navarre High School's SWAT, said many people who smoke tobacco are unaware of the health hazards.
"Everyone smokes and they do not necessarily know the causes or what can happen if you do smoke," he said.
Classmate Catalina Rios agreed, adding she has spoken to fellow students unaware of the dangers.
"It's funny in how many students there actually are," she said. "We've had conversations with students before about cigarettes."
SWAT member Ryan Williams said the overall goal could not be done without partnerships from other like-minded organizations.
"We partner with a lot of people … they help us get the message across," he said.   
This article originally appeared on Santa Rosa Press Gazette: Anti-tobacco message still needed, students say (VIDEO)