All About Food offers local seafood, catering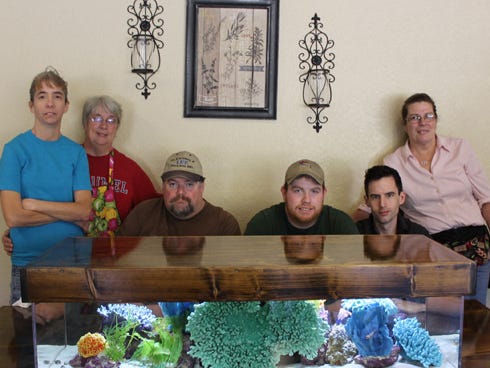 Steve House, or Big Steve as he's known, owns All About Food at 5701 Highway 90 with co-owner, Nan Foster. In the business for 25 years and original owner of the two Cutting Board restaurants, Big Steve knows two things: local seafood and customer service. Open since September, Big Steve, with his son, sister, mother-in-law, aunt, and nephew at All About Food, says, "The family affair is back."
This Valentine's Day, All About Food has a special offer: dinner for two for $35. Pecan encrusted grouper and blackened grilled tuna are the feature items. Big Steve teased at some exciting appetizers and specialty desserts he wouldn't reveal for the big day at this time. The special will cover both Friday and Saturday, Valentine's Day.
As a bonus for the most romantic day of the year, All About Food will award dinner for two to the winner of the Cutest Card Contest in addition to a rose bouquet from The Open Rose and jewelry from Fine Things. Drop your homemade or store-bought Valentine's Day card off at any participating vendor. It must contain the recipient, sender, and the sender's phone number. All cards and letters will be on display at All About Food and a winner will be selected on February 6th and announced in the Press Gazette February 11th.
All About Food also caters. Big Steve said Thursday night All About Food fed 100 at Pace High School for a boy's soccer event, a big way to kick off what he said is a big catering season. While the restaurant prides itself on local seafood, Big Steve said of the catering menu, "If you can eat it, we will do it, breakfast, lunch, dinner, or heavy hors d'oeuvres."  The one-two punch with All About Food's catering is the flexible pricing in addition to variety. "We can fit just about any budget. We do it all from weddings to banquets" Big Steve said.
Taking a brief moment to sit at the restaurant's 10-seat table with an aquarium in the middle by Reefscapes, Big Steve said his dedication and commitment to local seafood is what keeps people coming to eat with him. While some chain restaurants may receive shrimp from Japan, Big Steve said his come from Bon Secour, Alabama.
The first customer of the day, Ralph Pringle, retired, said he's known Big Steve forever and has eaten at his restaurants since the beginning.
"His food is consistent and a good price." Pringle said Big Steve knows how to treat people and is flexible. "He's a good guy. He really is. Once you know him you'll eat with him and follow him."
All About Food is conveniently located in the Chantilly Shopping Plaza. Hours are 10:45 a.m. to close, Tuesday to Saturday.
This article originally appeared on Santa Rosa Press Gazette: All About Food offers local seafood, catering