'Chili for Children' event to benefit Santa Rosa Kids' House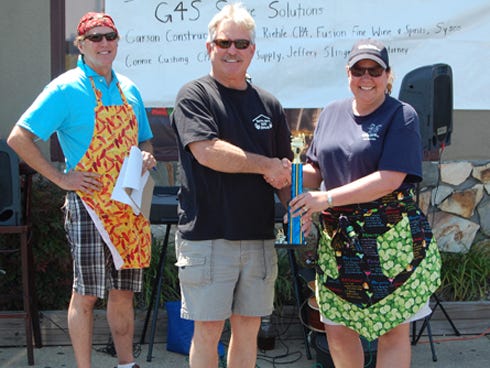 Although National Child Abuse Prevention Month is next month, the Santa Rosa Kids' House (SRKH) and Ollie's Neighborhood Grill in Milton are starting the awareness campaign early with the 'Chili for Children' fundraising event.
 This is the second year of the chili cook-off fundraiser, said Ed Carson, SRKH board member.
"We raised about $4,000 which went into our general fund." he said.
The Santa Rosa Kids' House serves as a child advocacy center for children who have been abused or neglected. The nonprofit organization offers assistance to these children and the families involved through treatment, prevention and intervention programs.
"It's not a warm and fuzzy subject, but it is certainly a needed service," Carson said.
Through these programs the goal of Kids' House is to make a terrible situation like child abuse "as least traumatic as possible" for the children and family members involved, Carson said.
 Carson said the chili-cook off event is still looking for more entrants for the chili cook-off competition. Last year ten teams participated and thus far nine competitors have registered.  Sponsorships are also still available for the event.
Competitors will have the chance to submit their prized chili recipes for the people's choice winner or take home a first through third place trophy in the judging contest. Ollie's will provide the judges for chili contest, while people's choice will be based upon how many tickets a participant receives during the event. A team from the Santa Rosa Medical Center won people's choice in last year's event.
The cook-off event will begin at noon on March 28, when the competitors will begin cooking their homemade chili and the tasting will start at 3 p.m.
What: 'Chili for Children' benefit for Santa Rosa Kids House.
When: Event starts at noon and tasting begins at 3 p.m. on Saturday, March 28.
Where: Ollie's Neighborhood Grill at 6181 U.S. Hwy. 90 in Milton.
Cost: General Admission to the event is $5, which includes six chili samples. Sponsorships for the event range from $50 to $500
Contact: Ed Carson at 393-1394 or by email at edcarson@carsonlovell.com, for more information.
This article originally appeared on Santa Rosa Press Gazette: 'Chili for Children' event to benefit Santa Rosa Kids' House