A bill as sweet as Tupelo honey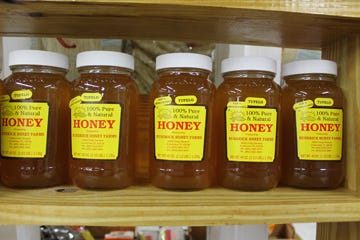 Created by Senator Bill Montford of District 3, making its way through Florida State Legislature is Senate Bill 556, which will designate Tupelo honey as the official state honey. Dr. Jamie Ellis, University of Florida associate professor of entomology, and Kenneth and his mother, Brenda Bundrick, co-owners of Bundrick Honey Farms, both spoke on a honey produced almost exclusively in the 850 area code.
According to the Bundrick Farms' website, "Tupelo honey is produced from the White Ogeechee Tupelo (nyssa ogeche), which ranges through the Ogeechee, Apalachicola, Chipola, Ochlockonee, Choctawhatchee and the Chattahoochee River Basins in Northwest Florida. Bee hives are placed along the river's edge. The bees fan out through the surrounding Tupelo blossom rich swamps during April and May and return with the nectar to produce Tupelo honey."
Brenda Bundrick said, "It's a premium honey. The Tupelo tree only blooms a short time. We have to get in there and pull the hives and get the Tupelo extracted before anything else blooms."
This year, Kenneth Bundrick said it was odd this year to push this bill with a small Tupelo crop. "It was blooming during … late April, very early May, in that ballpark time. That was when we had the very windy, very rainy, very cold time. We're talking about a very delicate blossom. There was not an abundance of nectar and the crop was very small."
However, as popular as Tupelo honey is, Kenneth said producers don't have to push it far outside of Florida because residents in the area consume so much of it. "It comes down to we don't have to get it out of the area to make sales. The people come to us." He went on to say Tupelo being produced in such a tourist attracting area increases its popularity.
Ellis said a rare quality to Tupelo is its ability to resist dehydration and granulate, which is to say, break down to a hard sugar. "The good news is you can take the lid off and heat it up and it melts back into honey, but Tupelo is neither prone to granulation nor prone toward fermentation. Once processed by the bees, it tends to stay the right moisture content and not be prone to going one way or the other." Fermentation, he said, is when moisture content reaches too high. "Some people believe the fermentation of honey, (known as) mead, is the earliest form of alcohol."
While many health benefits, such as allergy resistance and a low glycemic index, many associate with Tupelo honey, Ellis said, "I think the only thing I've been fully convinced of is that honey is a natural antibiotic. There is evidence principally that it has been used as a wound dresser." Ellis said hospitals today still use honey for wounds when they show antibiotic resistance.
With the bill potentially becoming official, Ellis said, "It is exciting to me. I'm not a drinker, but the way that I view wine and people's approach to it, the color, viscosity, its taste creation sourcing, all of that occurs with honey. If people were exposed to the full palette of flavors…they would be blown away. Tupelo is a good flag bearer for that idea."
This article originally appeared on Santa Rosa Press Gazette: A bill as sweet as Tupelo honey