5K memorializing local airmen draws biggest crowd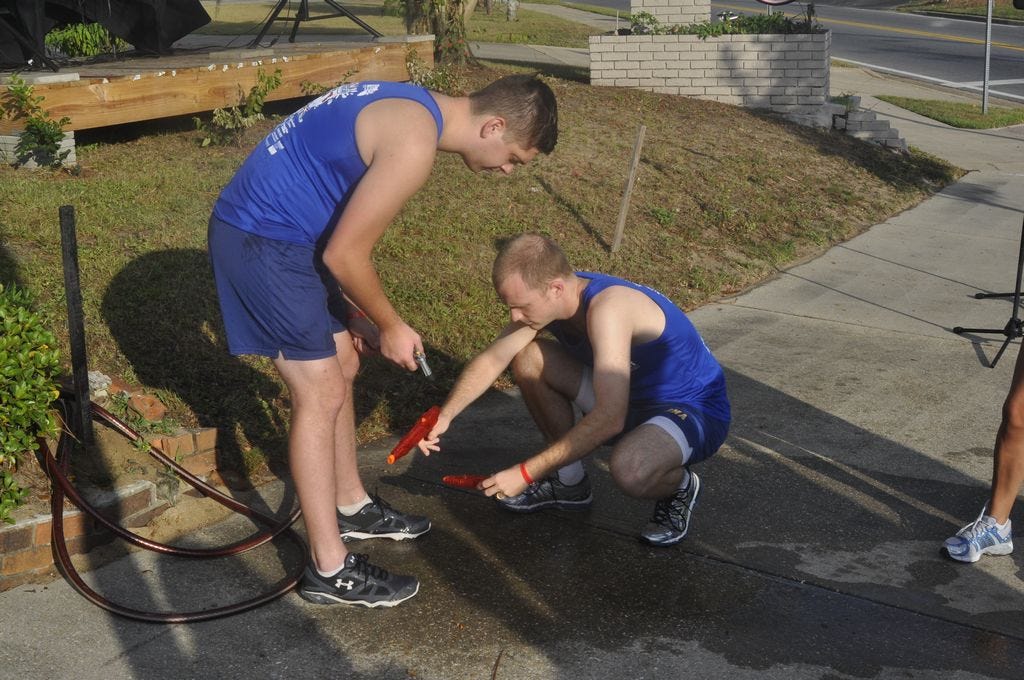 The annual Thomas Cameron's Memorial 5K with this year's Super Soaker theme in downtown Milton continues to grow in participants. According to Glen Hill, an event organizer, nearly 900 people registered for the event.
 With a new theme of 'Rockin' Super Soaker Fun 5K,' the event continues to benefit the Thomas Cameron Memorial  Foundation. In addition to honoring local fallen military airmen, the event also memorializes Cameron, a native of Portland, Oregon. In a previous article, Hill said Cameron gave back to the Santa RosaCounty community while mentoring children and young men in delinquency programs or assist them in earning a GED.
 Whether running or walking, participants were encouraged to bring their water guns to the event in order to spray each other down throughout the race. Several volunteers got into the water-filled fun by hosing down runners with either a water gun of their own or a garden hose. The Milton Fire Department even got in on the fun by using a fire hose for the 5K's finish line.
While the local military service men and woman had strong presence at the event. The 5K also served as a final opportunity for local children to let loose before school started this week.
Kristi Basel of Pace brought her children to participate in the 5K, which allowed participants to further get soaked while sliding down one of four large inflatable water slides.
 "This will give them one last time," she said.
Basel, who regularly runs in area 5K events, said she enjoyed getting soaked in her first water-themed 5K. Basel has even been requested to participate in next year's 5K, should it keep the water-theme.
"The kids asked if they can do it again next year, so I'm sure we will be here next year," she said.
Milton resident Corey Jones, a member of the Pea Ridge Running Club, also thought this event was a good way to end the summer.
"I was here to have fun and to end summer with a bang," he said.
While many participants are regular 5K runners, Saturday's run/walk event was a first for others, like Kellcy Bramel who ran with her sister Mallory.
"It was really fun," Kellcy said."It was a good first one."
This article originally appeared on Santa Rosa Press Gazette: 5K memorializing local airmen draws biggest crowd