20 tons of free food to be given out Saturday at East Milton Recreational Park (Fairgrounds)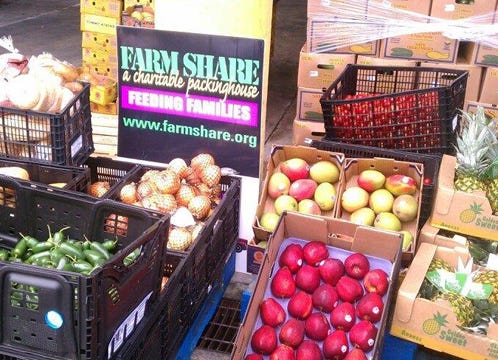 In an effort to provide free food to families in need and to offer healthy choices for area residents, the United Way has teamed up with area non-profit organizations to deliver 20 tons of food to Santa Rosa residents Saturday.
Saturday morning at the East Milton Recreational Park and Santa Rosa Fairgrounds on Hwy. 90, at the Hwy 87 intersection, the United Way and the Santa Rosa County Health Department will be distributing 40,000 pounds of food.
The delivery is being handed-out by Farm Share, Inc.; AmeriCorps; and SWAT, Students working against tobacco. United Way volunteers will work to break down the nutritional food into manageable packages, from palettes delivered by an 18-wheeler coming from a Quincy warehouse. 
"We are thrilled to have this chance to practice supply distribution at the new covered arena in East Milton. This gives us the chance to serve others just as we would from this facility – post disaster," says Kyle Holley, development director for United Way. 
"Please refer families that you know are in need and send them early, there is a lot of food coming, but it is limited," says Julie Burger, AmeriCorps.  
The Santa Rosa County Health Department is focused on both promoting better nutrition and access to healthy food as well as smoking cessation. Families will be served on a first come – first served basis after visiting anti-tobacco counselors and service providers.  "We are thrilled with the growing trend we see in area schools and parks of lower tobacco use," says Robbie Leggett with the Health Department.  "Together, we can change behaviors that make us a healthier safer community while lowering state health care costs."
The food distribution will be from 10 a.m. to 3 p.m. or while food lasts.  The location is in the Santa Rosa County Fairgrounds, part of East Milton's Park off Bobby Brown Rd. in Milton. To gain access, turn as if driving toward the Sheriff's Office, make the first immediate right. 
The only documentation needed to receive food is proof of Santa Rosa residency: a driver's license, utility bill, etc.
For more information call Holley at 712-8788. 
This article originally appeared on Santa Rosa Press Gazette: 20 tons of free food to be given out Saturday at East Milton Recreational Park (Fairgrounds)