10th annual Fishin' with a Mission offers over $8K in payouts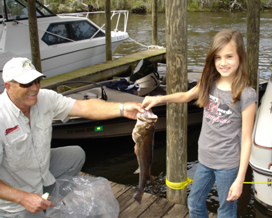 Let's go fishing for a cause. On Saturday, April 4th the tenth annual 'Fishin' with a Mission' bass tournament is set to raise $150,000 in federal support for working families, said Kyle Holley, United Way Santa Rosa development director. Holley said United Way Santa Rosa (UWSR) partnered with Three Rivers Bass Fishing Club, developing the region's largest local bass tournament. The event brings in professional sportsmen from surrounding counties and states to the county.
"Local dollars generated by this event are used by UWSR agencies to bring down from Washington D.C. much needed federal dollars to provide childcare for working families. This year's  ten year milestone for the special tournament features the chance for participants to win $15,000 if their weigh bag of five live fish matches a pre-selected bag weight.  It is our intent for this competition to continue on its path for a mission driven event that promotes our natural resources, our rivers, and highlights the Santa Rosa County tourism brand "Florida's Playground." 
Holley said each year 100 boats and 200 bass fishermen launch at daybreak at Carpenter's Park in Milton fishing until the 3 o'clock weigh-in of live largemouth bass.  While waiting for the weigh-in, the Lion's Club will be providing a community based free fishing clinic event in the park for families and children.  The United Way and the Lions Club partner with Fish Florida Foundation to provide 175 free fishing rods and reels for the first kids who register onsite at 12 p.m.  Additionally, the United Way and its team of volunteers will be onsite frying fish promoting conservation, boater safety and the joy of fishing. 
 Wayne Cox, professional bass fisherman will be onsite to encourage the kids to fish safely and protect our State's rivers, lakes, creeks, and streams.  "Fishing has the greatest national economic impact in the State of Florida and strengthens Florida's families," says Wayne Cox.  The Florida Sports Foundation website reports 2.8 million in-state anglers and 885,000 non-resident anglers generating annual support for over 75,000 jobs.  For more information regarding the event contact the UWSR office at 623-4507.
Want to go?
This article originally appeared on Santa Rosa Press Gazette: 10th annual Fishin' with a Mission offers over $8K in payouts